Product Information
Detachable keyboard and pen sold separately. Images used are for illustration purposes only.
Detachable keyboard and pen sold separately. Images used are for illustration purposes only.

The Microsoft Surface Pro 4 gives you the same power you'd expect from a powerful laptop, but in the compact size and design of a tablet. This revolutionary cross-over could replace your laptop making commuting and travel much easier. Delivering incredible performance, the Surface Pro 4 is perfect for professionals, creatives and more.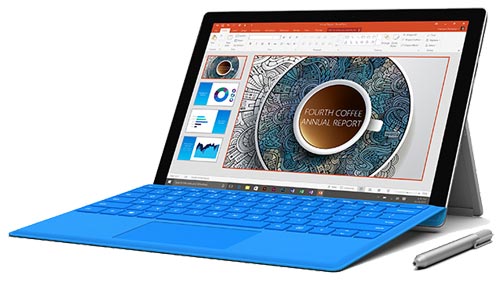 EXTREMELY VERSATILE
Versatility is key when it comes to replacing your laptop with a tablet. You don't want to lose any of the programs or possibilities you've grown to love and use regularly.
The Microsoft Surface Pro 4 runs all the desktop software you're used to while giving you ultimate portability and ease of use. Weighing as little as 766g you'd be mad to stick with your laptop when working on the move.
The 12.3-inch touch screen, multi-position kickstand and keyboard (sold seperately) give you the same functionality as your PC while the Surface Pen makes note-taking as simple as writing on a piece of paper.
Advanced wireless capabilities and all the ports you need make connecting other devices and accessories to your Surface simple.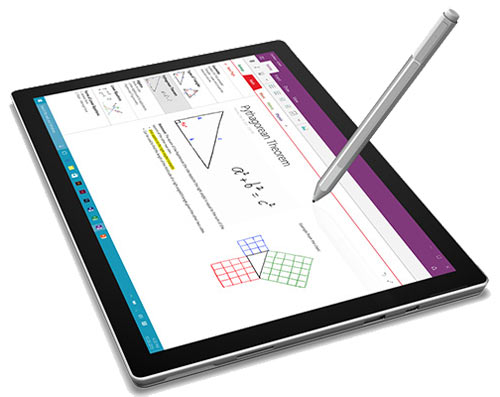 EXCEPTIONAL PERFORMANCE
The 6th generation Intel Core i5 processor delivers more powerful performance as well as being much quieter, cooler and more efficient than before.
With a really impressive battery life of 9 hours, you can work for much longer between charges making the Surface Pro your perfect mobile workstation for running multiple professional programs together.
8GB of RAM makes this tablet run smoothly, letting you multitask seamlessly and the 256GB storage is enough for files, media content and more.
Other functions you're used to with your laptop such as video conferencing can be done in confidence. The 5MP front-facing and 8MP autofocussing rear camera make video-conferencing easy.
It runs Windows 10 Pro flawlessly whether you're using touch, a Surface Pen, mouse or keyboard and you can also run all other professional-grade software including Adobe Creative Cloud, AutoCAD, Visual Studio and Citrix.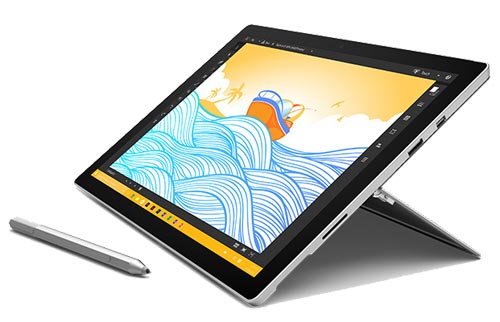 ADVANCED PRECISION
Using the Surface Pen feels as smooth as using a ball-point pen on paper. Use it to activate services such as OneNote or Cortana - your digital personal assistant.
The latest facial recognition camera technology makes the Surface Pro even more secure. Windows Hello knows who you are and will sign in with no password required.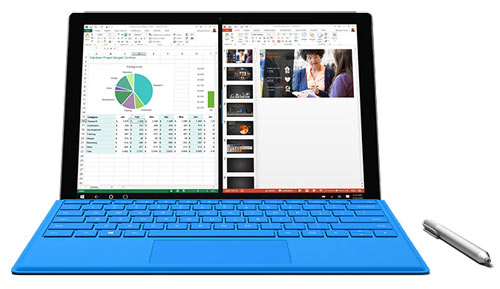 READY FOR BUSINESS
With the ability to handle any task, your Surface Pro 4 will seamlessly pair with your existing IT infrastructure.
Built with a TPM (Trusted Platform Module) chip, the Surface Pro is much more secure. It is protected by Enterprise Data Protection, Trusted Boot and Windows Defender for malware protection and data privacy.
You can set up Surface like other PCs by joining it to a domain and managing it using tools already in place such as Active Directory, SCCM and Air Watch.
Screen - 12.3 Inch
Processor - Intel Core i5 I5-6300U
RAM - 8 GB
Optical Drive - None
Battery Life - 9 hours
3G Enabled - No
Warranty - 1 year warranty