Product Information
A1 Refurbished
A1 are open boxed units which have been returned usually due to being unwanted. The units may have at very worst case have very faint minor /non-permanent blemishes. All units then undergo a full 25-point inspection by our experienced tech team ensuring they are in full working order. Once all relevant checks have been complete the units are then securely repacked ready to be resold. Please note although we can't guarantee that these units are still in their original boxes with all their original accessories we can confirm that on average 85% of our stock is still in its original packaging.
This is a grade A1 product with no obvious scratches, marks or dents. It will be fully bubble-wrapped for transportation and comes with the full manufacturer's warranty.
GRADE A1 - As new but box opened
500GB
HARD DRIVE
4GB
RAM
WINDOWS 7
PROFESSIONAL
INTEL
CORE i5
1 YEAR
WARRANTY

The Lenovo E73 professional desktop is the perfect choice for working at home or the office. Doing what you need, when you need it, quickly and efficiently.
Superior processing, increased security, faster storage and energy efficiency all get you on your way to meeting your ever changing business needs.
Speedy and Efficient
With an impressive Intel Core i5-4460s Quad Core processor this desktop is a speedy expert at multi-tasking, managing multiple programmes and applications at once, no problem!
If things start to slow and you feel you need to boost your desktops performance there are two DIMM memory slots for you to increase the amount of RAM your E73 has.
Operating on Windows 7 Professional your experience will be welcoming and fairly familiar. All your applications and essentials you rely on will be waiting to take action and help boost your productivity and improve your business.
Integrated graphics give you a clear perspective over your projects. This E73 is perfect for the office or home. Not intended for intense gamers but it is suited and ready to go for you to begin building your own business empire!
Feel the support
Built in security to put you at ease. The E73 has hardware security to ensure you safe access to your network as well as guard you against identity theft!
You can secure your desktop yourself with password protection, USB port disablement to stop any unwanted data transfers and also physically secure your mouse and keyboard.
Lenovo are at hand to help. Why bother with trouble shooting when there are top level technicians at the ready to help you solve your issues quickly.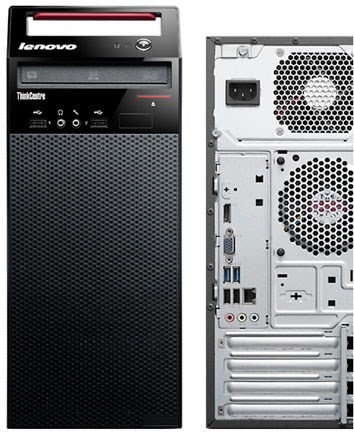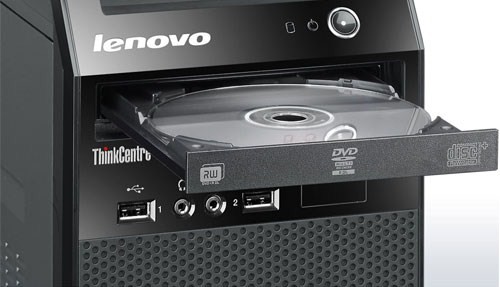 Storage Possibilities
With 500GB of hard drive space you have plenty of room to store your media. If things start to get full and you can't bare to part with anything take advantage of the many options this E73 model has for external storage.
The E73 includes a built in DVD Rewriter, perfect for playing DVDs and CDs or become a creator and burn your own disks. An excellent way to back up data, especially invaluable data you wish to keep such as photographs.
Data transfer couldn't be simpler. This E73 desktop houses a total of six USB ports. There's more than enough ports to connect all your accessories and also the included mouse and keyboard. Four of