Product Information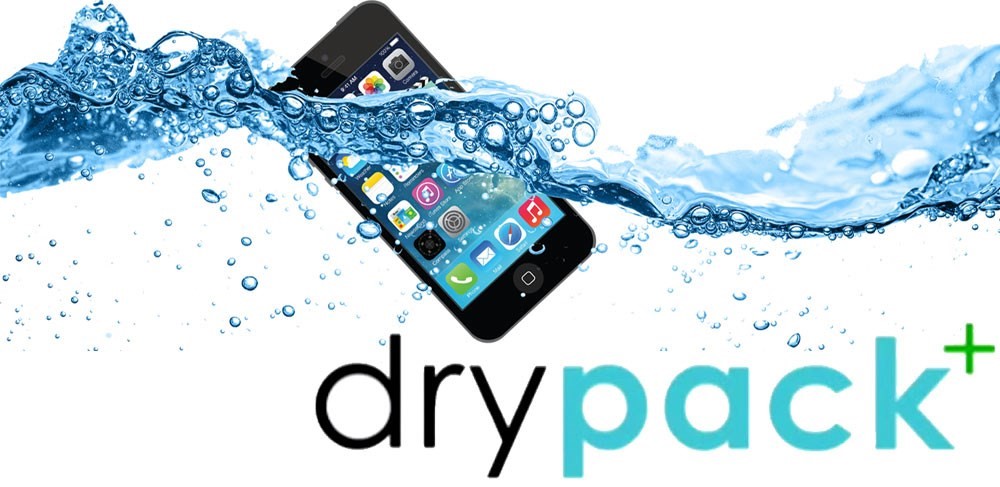 Whether you've dropped your tablet in the bath, phone down the loo, headphones in a cup of tea or spilt beer on your camera there's now a simple solution to offer you hope of recovery!
In most cases when your phone has water damage your insurance won't cover it and it's not included in the warranty. Don't stress! There's now an easy remedy you can do at home or when you're out and about as the DryPack+ is so simple to use.
How does it work?
The faster you get treatment via the DryPack+ the more the chances of recovery for your device. For the best results get your device in to a DryPack+ within 48-72 hours.
The DryPack+ its self is an absorption device, from the outer packaging which has a triple layer of aluminium as well as other magical coatings to the chemical absorption packs inside.
This absorption device can work for all electrical devices no matter what brand, fitting tablets of up to 8 inches. The DryPack+ doesn't just work on devices dropped in water, you can use it for damage caused by coffee, tea, alcohol, all liquids. All these liquids contain minerals and this is in fact is what damages your devices as theses minerals cause corrosion which effects the motherboard and once this is damaged there's no looking back.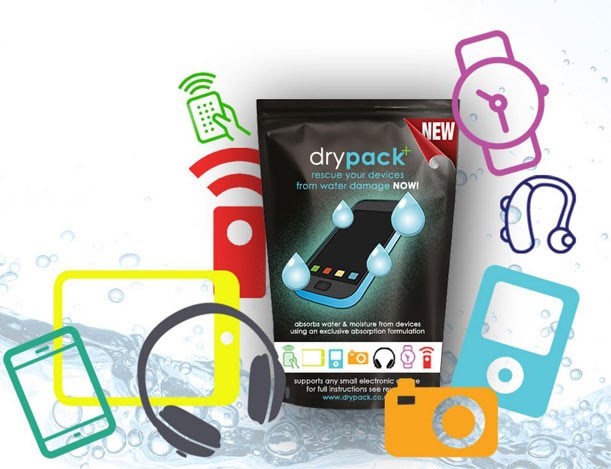 Will it work for me?
The DryPack+ is like a first aid pack for your device. The pack is best to have on hand so you can put it to use as soon as the accident has happened. It's ideal to keep in a drawer at home or if you're off on holiday and drop a device in the pool or perhaps you're off camping or fishing, why not throw the DryPack+ in your bag. This practical package lasts for three years unopened and is cost effective, there's no reason not to have one at the ready!
There are three recommended time periods to keep your devices in the DryPack+ depending on the water damage level.

How to...
1. Do not restart your device! Leave it powered off
2. Remove the battery/SIM card/Memory cards, anything that easily comes off your device
3. Dry off your device manually with kitchen roll, towel or cloth
4. Cut open your DryPack+ above the zip lock
5. Sandwich your device between the two smaller sachets included inside
6. Place your sandwiched device back in the DryPlus+ bag
7. Also place your battery/SIM card/Memory cards inside the bag separately
8. Seal up the DryPlus+ bag with zip lock and leave in room temperature or a slightly warm place
9. Do not open your DryPack+ bag until the recommended time is up
10. Remove your device, charge and go!
Is it a guaranteed solution?
It is impossible to guarantee a 100% success rate all the time, but DryPack+ has been tested on over 100 devices and found that your every day, day to day spills, falls and drops into places like the sink, loo, bath, swimming pool, rain, poured drinks and even a dunk in the lake can be recovered if placed inside a DryPack+ fast enough.
Features
Recovers devices exposed to water damage
Suitable for all electronic devices
Cost effective solution
Unopened pack lasts for 3 years
Fits a tablet of up to 8 inches
Suitable for all brands
No tools required
Simple to use with no mess
Non toxic