Product Information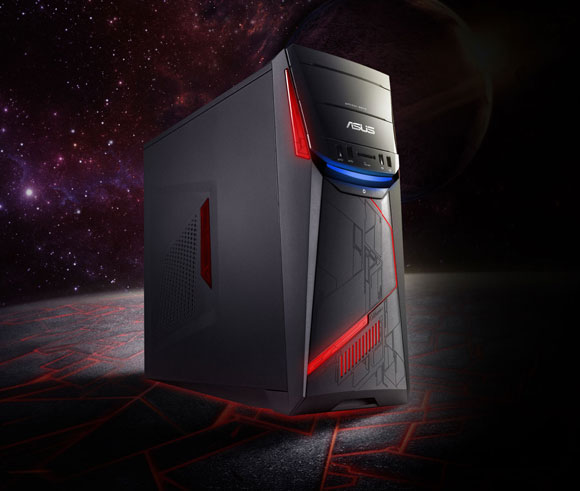 ASUS G11 GAMING PC
The ASUS G11 is designed with gamers in mind; it combines high performance gaming with a stylish design and outstanding connectivity.
The space-inspired, futuristic design makes this PC perfect for people who want to play in style; the chassis also feature four LED areas with the centrepiece being customisable to display up 8 million colours of your choosing.
The ASUS G11 features a powerful Intel Core i5-6400 quad core processor, 8GB RAM and a GeForce GTX 750 graphics card; giving you the power to play whatever you want in stunning detail.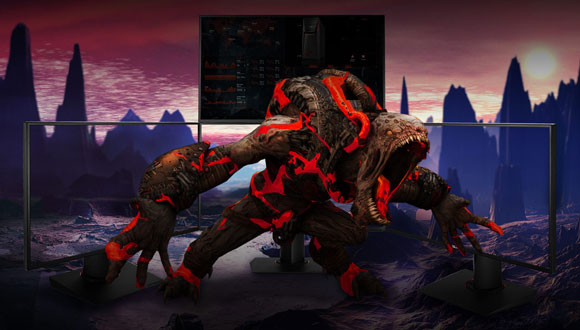 UNBEATABLE POWER & PERFORMANCE
The Intel i5-6400 quad core processor provides you with all the power you need to dominate the competition; providing high-performance gaming with no lag. 8GB RAM ensures all of your games will be fast and responsive whilst allowing you to multitask with ease.
Chat to teammates, check your emails or even browse the web; all whilst gaming! The 1TB hard drive gives you all the space you need for all of your games and much more; store all of you photos, videos and games in one place.
GeForce GTX 750 graphics allow you to play games in full 1080p HD, enjoy a smooth gaming experience with ultra-sharp visuals. Featuring G-Sync technology, GeForce experience and ShadowPlay, you can experience richer, more immersive gaming.
DESIGNED TO PERFECTION
The ASUS G11 not only performs well, it also looks fantastic! The futuristic design and Mayan-inspired markings perfectly portray the raw power of this machine. The dark red, black and grey colour scheme radiates the incredible aesthetic of the ASUS G11; you won't want to hide this PC under your desk.
The chassis of the ASUS G11 incorporate up to eight air vents; this efficiently facilitates air intake and heat dissipation. The side vents are dedicated to cooling the CPU whilst the front air intakes draw air in for effective heat management.

SUPERB CONNECTIVITY
This PC has extensive connectivity options including a HDMI port for gaming at its full potential, six USB ports, four of which are USB 3.0, Bluetooth connectivity and a VGA port.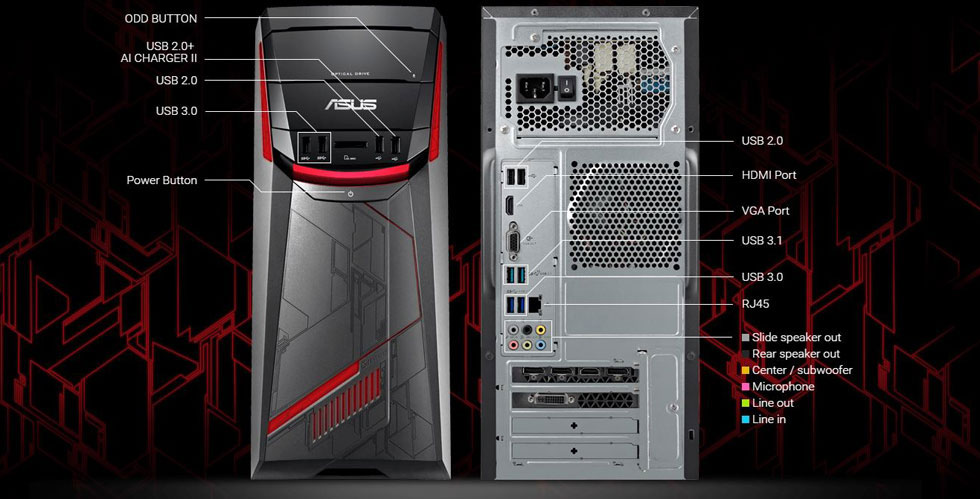 Key Features
Intel i5-6400 quad core processor
Nvidia GeForce GTX 750 graphics card
8GB RAM
1TB hard drive
Windows 10
Quiet performance & exceptional cooling
Stunning design
Customisable LED light
---