Product Information
PUT YOUR FEET UP
The Roomba 886 cleaning robot wipes the floor with the competition when it comes to cleaning performance. It features iRobots revolutionary AeroForce® Three-stage Cleaning System and AeroForce® Extractors to ensure all your floor surfaces are spotlessly clean without you having to lift a finger. Plus, the built-in sensors and virtual wall lighthouse accessory enable Roomba to work its way in and around the nooks and crannies of your room.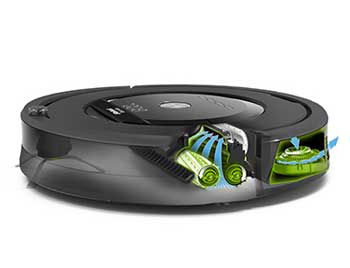 REMOVE UP TO 50% MORE DIRT
To help draw in more debris, the Roomba 886 features a highly efficient motor that delivers a concentrated airflow up to 5x more powerful that previous Roomba models. And, when the bin is getting full, the Roomba will let you know its time to empty it.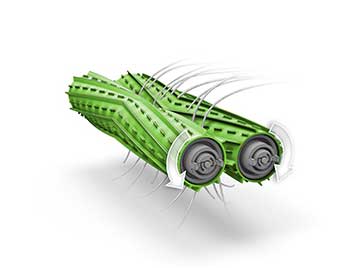 HANDLES DIRT WITH EASE
The Roomba 886 is fitted with two brushless extractors that prevent hair and other debris from clogging and jamming - ideal for homes with pets. Plus, the extractors are faster to clean than conventional vacuum brushes.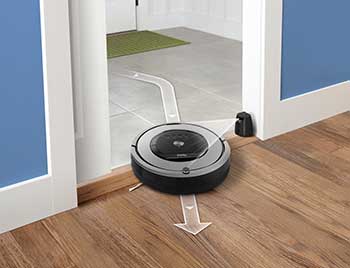 ROOM-TO-ROOM CLEANING
The virtual wall lighthouse (included) is designed to contain your Roomba in one room until its completely vacuumed, then direct it to the next room to clean. It also can be used to block restricted areas in your home.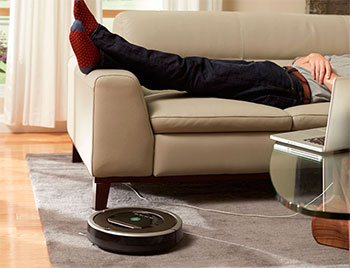 EFFORTLESS CLEANING
Simply press the CLEAN button and the Roomba 886 will get to work with no programming required. Alternatively, you can set the Roomba to start cleaning at a time that suits you, up to seven times per week. Its like having your own personal cleaner on call!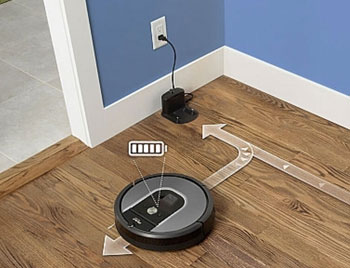 RECHARGE & RESUME
This intelligent robot vacuum is designed to go the distance to clean your room. It automatically returns to its Home Base to dock and recharge between cleaning so you can leave it to get the job done without having to intervene.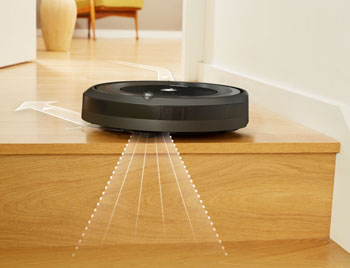 NO WHERE FOR DIRT TO HIDE
The Roomba 886 is fitted with a whole host of sensors to ensure it finds its way around your entire room whilst avoiding stairs and other dangerous drops. Its low profile chassis is design to reach hard to reach places like under sofas and chairs.
Key Features
Dirt Detector series 2 technology
Up to 50% better cleaning performance than previous models
Automatically docks and recharges
Multi surface cleaning
Self-adjusting cleaning head
Bin full indicator
HEPA Filter
Tangle-Free AeroForce Extractors
Virtually Maintenance-Free
Airflow Accelerator
High-Efficiency Vacuum
Anti-Tangle Technology
AeroForce Performance Cleaning System
Edge-cleaning brushes
Convenient Carrying Handle
Bagless Vacuum
Advanced Cleaning Head
Room-to-Room Navigation
iAdapt Responsive Navigation Technology
Soft-Touch Bumper
Consider upgrading to the iRobot Roomba 966 for handy app control and multiroom recharge and resume technology
What floor surfaces will it clean?
Carpets
Hard Floors
Linoleum
Tile
Whats Included?
1 iRobot Roomba 886
1 iRobot XLife Extended Life Battery
1 Virtual Wall Lighthouse Device (2 x C batteries included)
1 Integrated Home Base
1 Extra Filter
Dimensions:
H x W x D: 92 x 353 x 353mm
Weight: 3.8Kg
N.B. Please note, robot vacuums can struggle with black or dark areas. The drop-off sensors read these areas as a drop-off and will not cross over them. It is possible, however, to cover up these sensors to allow the robot to vacuum over dark areas. Just be sure to put a physical barrier in front of any real drop-off points to prevent damaging the unit.