Product Information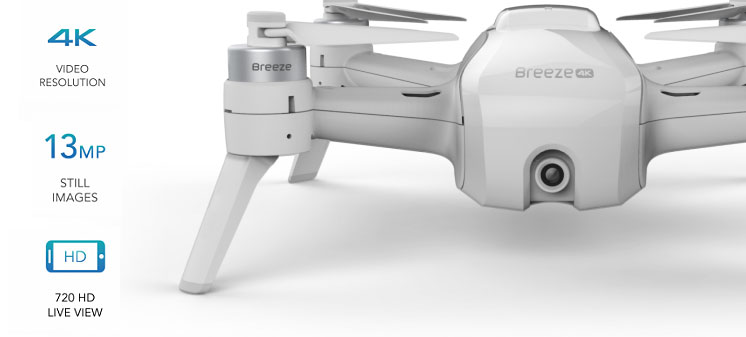 YOUR FLYING CAMERA
With five flight modes, collision avoidance and an on-board 4K camera, the Yuneec Breeze drone is the ultimate flying camera that's easy to use and hard to crash. At just under one pound, this lightweight drone with foldable propellers can be taken anywhere. The Breeze drone is operated using an Android or iOS device, so you don't have to worry about carrying and using an over-complicated remote control. use an over-complicated remote control to operate it, instead the Breeze is controlled using an Android or iOS device.
SUPERIOR IMAGE QUALITY
To help bring your memories to life, this mini yet mighty drone delivers breathtaking 4K Ultra High Definition and ultra-clear 13 megapixel stills. You can even stream live video footage of your flight on your smartphone in 720p HD quality.

SOCIAL CONNECTIVITY
Once you've captured photos and videos with Breeze, you can use the Yuneec app to personalise them with messages and instantly share your best work on social media, including Facebook, Twitter, WhatsApp and YouTube. It's effortlessly simple and fun.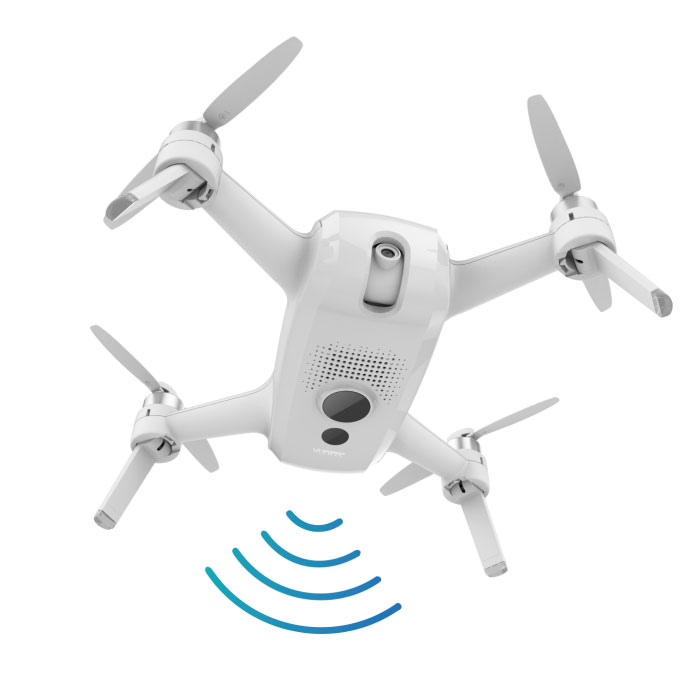 SAFETY FIRST
For added peace of mind, the Breeze drone is fitted with infrared positioning sensors that allow it to hover stable in position no matter the environment. This means you'll be able to fly the drone indoors and outdoors without having to worry about it veering off. Plus, there's an auto-landing and auto return-to-home feature to make the flight experience effortless.
COMPLEX SHOTS MADE EASY
The Breeze drone boasts five automated flight modes to help you capture professional aerial shots with minimum effort. Use Selfie and Orbit modes to take aerial group photos and video or use Follow Me mode to record your every move from a unique perspective.

SELFIE MODE
Elevate your creativity and snap the perfect aerial selfie shot every time. It's great for shooting those special moments without missing anybody out the picture.
PILOT MODE
Put your piloting skills to the utimate test and take full manual control of the Breeze drone. It gives you total freedom to fly how you want.
ORBIT MODE
Capture your best side using Orbit mode. The Breeze drone will loop around you or another object in 360-degrees to ensure you get the full picture.
JOURNEY MODE
In the journey mode the drone will automatically follow your specified flight path before returning back to you.
FOLLOW MODE
This great setting allows the drone to automatically follow you via GPS to track your every movement, allowing you focus on striking your favourite pose.
Features:
Complete Ready-To-Fly 4k camera drone
Pilot the drone using your Smartphone and dedicated app
Five fully automatic flying modes to get the perfect shot
4K Ultra HD camera with 13MP still images
Fly indoors and outdoors thanks to the built-in positioning system
Lightweight and portable design
720p HD quality live view streaming
Up To 12 Minute Flight Time
Specification
Battery: 3S 11,1 V 1150 mAh LiPo
Maximum flying height: 80m
Maximum horizontal speed: 5m/s
Maximum climbing speed: 1m/s
Sensor: 1/3.06 CMOS
FOV: 117°
Shutter speed: 1/30 - 1/8000s
White balance: auto, sunny, sunrise, sunset, cloudy, tungsten light, glowing, disabled
Dimensions
W x D x H: 196 x 196 x 65 mm
Weight: 385g