Product Information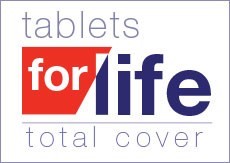 With Tablets For Life you get extra benefits such as theft cover, breakdown due to accidental damage, a single point of contact if you need help or advice, and a replacement product if we can't repair it.
We're so confident about our quality of service that you can cancel the low cost monthly payment whenever you wish.
Whats included:
If it breaks, we'll fix it

If your tablet develops a fault we'll get it working again. We'll instruct either the manufacturer or a certified repair centre to repair it.

Replace if can't repair

Replacements will be identical (or of comparable specification if no longer available) and delivered free of charge.

Accidental Damage Cover

You are covered for breakdown due to accidental damage from the moment you take delivery of your new tablet

Theft Cover

If your tablet is stolen we'll replace it.

No hidden charges

Includes parts, labour and delivery charges, if your tablet is stolen or beyond repair then we'll provide you with a replacement. £50 excess applies to all claims.

A UK Dedicated claims line

Need a repair? We have a dedicated claims line and are here to help.
Click here for the Key Facts (opens in new window)
Click here for the Terms & Conditions (opens in new window)
Call the Care Team now to add peace of mind to any item bought from us on
0844 893 7998