Western Digital Blue Internal Hard Drives
Build it in Blue. Up to 6TB Storage Capacity.
Boost your PC storage with WD Blue drives, the brand designed just for desktop and all-in-one PCs with a variety of storage capacities.
Improve the Performance of your PC
Give your desktop a storage and performance boost when you combine your hard drive with an SSD to maximize speed of data access and a WD Blue drive for up to 6TB of additional capacity.
Plan for the Future
With better technology comes bigger storage needs. Digital cameras that record ultra-high definition video at 4K resolution and 30 frames per second require a ton of storage.
Trust in WD
Known for their reliability, WD Blue drives are designed, tested and built to last. They also ship with a 2-year limited warranty.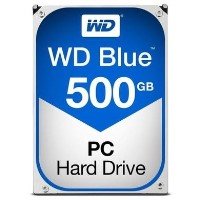 Form factor

-

3.5in

Rotation Speed

-

5400rpm

Cache Size

-

64MB

2 year warranty