Product Information
A1 Refurbished
A1 are open boxed units which have been returned usually due to being unwanted. The units may have at very worst case have very faint minor /non-permanent blemishes. All units then undergo a full 25-point inspection by our experienced tech team ensuring they are in full working order. Once all relevant checks have been complete the units are then securely repacked ready to be resold. Please note although we can't guarantee that these units are still in their original boxes with all their original accessories we can confirm that on average 85% of our stock is still in its original packaging.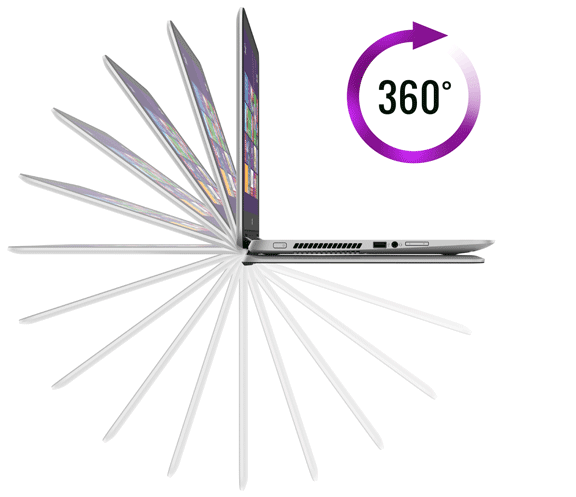 Enjoy the best of both worlds with the HP ENVY x360
Easily convert from a 15.6 inch laptop to stand to tent to tablet mode with this amazingly value-packed convertible PC, featuring a 360° hinge. With optimized touchscreen performance and BeatsAudio, all your productivity and entertainment needs are at your fingertips.
360° hinge for ultimate flexibility.
Work in laptop mode, watch in stand mode, play in tent mode, go in tablet mode. This innovative convertible PC has the flexibility to keep up with all your needs.
Switching between tablet and laptop mode is easy; simply rotate the screen around the 360-degree hinge. There are also several modes in-between positions that are perfect for watching TV and films or tabletop browsing.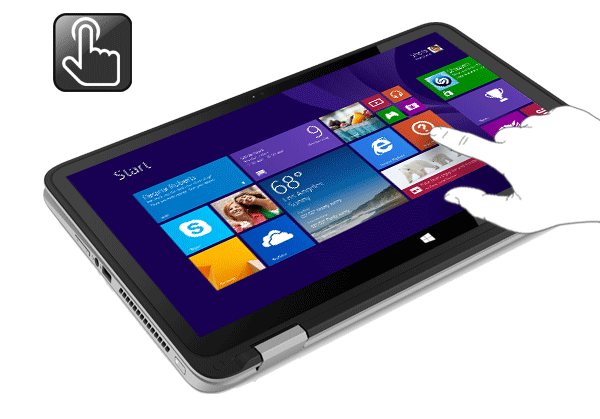 Tap, swipe, pinch.
The ENVY x360 runs on Windows 8.1. Optimised for touch, it puts your favourite apps and programs at your finger tips.
No matter which way you use your innovative convertible PC, the latest touchscreen technology makes the most of Windows 8.1 in laptop, stand, tent, or tablet mode.
Simply touch a tile to open it and move around using taps, swipes and pinches. It only takes a moment to pick up and is already second nature if you own a Smartphone.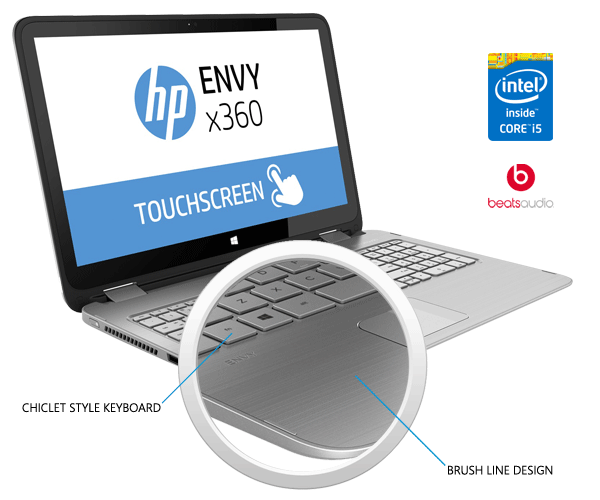 Everyday performance
Great Performance comes courtesy of an Intel Core i5 processor, providing quick, reliable processing throughout all your daily computing. Combine this with a vast 8GB of DDR3L energy-saving RAM and you have yourself a multi-function laptop that makes multi-tasking a breeze.
A huge 1TB hard drive provides ample storage for documents, photos, media and more. Backing up is simple thanks to Windows 8 Cloud connectivity, a memory card reader and USB 3.0. With far faster data transfer speeds than previous generations, USB 3.0 makes light work of backing up even the largest files to external storage.
BeatsAudio.
With BeatsAudio and dual speakers optimized for use in any position, the HP ENVY x360 is designed for the best-sounding, richest audio on a PC.
Work when you have to and play when you want with the HP ENVY x360 15.6 inch 2 in 1.
Intel Core i5-5200U (2.2GHz/2.7GHz/3MB) CPU
8GB DDR3L RAM
1TB HDD
15.6 inch Full-HD Touchscreen
Windows 8.1 OS
Intel HD 5500 GPU
1 Year Warranty