Product Information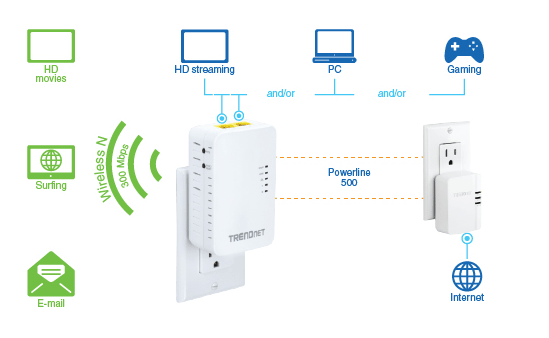 TPL-410APK (Version v1.0R) - Powerline 500 Wireless Kit
TRENDnet's Powerline 500 Wireless Kit, model TPL-410APK, uses electrical outlets to create a hybrid Powerline-Wireless network.
The included TRENDnet Powerline adapters (TPL-406E + TPL-410AP) auto-connect out of the box.
Network the TPL-406E to a router and plug the TPL-410AP into an outlet on the electrical system to extend a high performance wireless network.
Hard-wire a smart TV, gaming console, or media player to the two Ethernet ports on the TPL-410AP.

POWERLINE
No CD Installation - Simply plug in the adapters—all TRENDnet adapters auto-connect out of the box
Sync Button - Press the Sync button to change existing Powerline encryption keys
Pre-Encrypted - For your security the Powerline signal is pre-encrypted
Powerline 500 - High speed Powerline networking over existing electrical lines
Ethernet Ports - The TPL-410AP offers two convenient Ethernet ports to hardwire computers, smart TVs, and other network enabled devices
Cross Compatible - TRENDnet Powerline 500 and 200 adapters work together
Whole Home Coverage - Connects over electrical lines, for houses up to 5000 square feet (300 m/984 ft. linear distance over electrical lines)
Energy Savings - Power Save mode reduces electrical consumption
WIRELESS
Quick Setup - Get up and running in minutes with the intuitive guided setup
N300 Wireless - Proven 300 Mbps Wireless N
Wireless Coverage - Expanded wireless coverage with MIMO antenna technology
Pre-Encrypted - For your security the wireless is pre-encrypted with a unique password
One Touch Connection - Securely connect wireless devices at the touch of the Wi-Fi Protected Setup (WPS) button
Compatibility - Compatible with legacy 2.4 GHz Wireless devices

Create a wireless network in an area with little to no wireless coverage
Combination Powerline and Wireless N
Connect a smart TV, gaming console, or media player to the two Ethernet ports
No CD installation: adapters auto-connect out of the box
Includes TPL-406E + TPL-410AP adapters