Product Information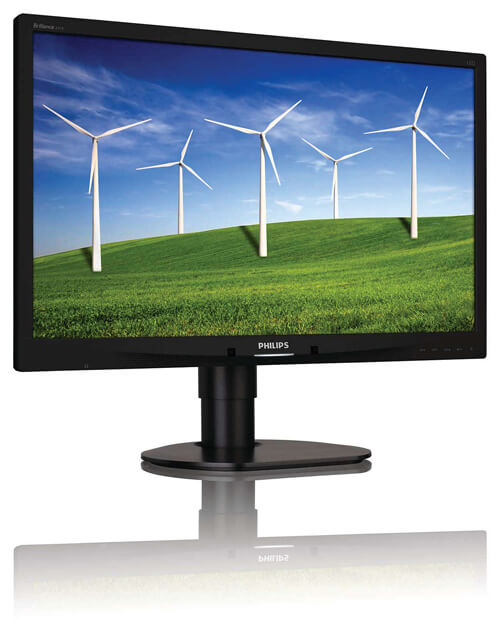 DIMENSIONS: W565 x D61x H353 MM
HEIGHT ADJUSTMENT: 110 MM
PIVOT: 90 DEGREE
SWIVEL: -65/+65 DEGREE
TILT: -5/20 DEGREE
SAVE UP TO 80% ON ENERGY COSTS
The Philips Brilliance B-line features PowerSensor, which is a built in 'people sensor' that transmits and receives harmless infrared signals, determining if the user is present or not. When the user is away from the desk the monitor will automatically reduce in brightness, resulting in lower energy costs as well as prolonging the life of the monitor.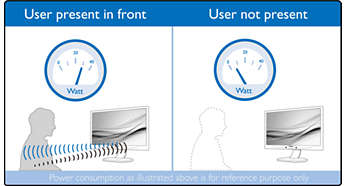 USER FRIENDLY
With a SmartErgoBase the monitor is user friendly, tilt, swivel, rotate and adjust height to position the monitor for maximum comfort, helping to ease the strain of a long working day. With cable management you can keep a clutter free workspace.
The SmartErgoBase can also be lowered almost down to desk level for a comfortable view. The bezel to table height is perfect for those who use bifocals, trifocals or progressive lens glasses. The monitor also helps to reduce fatigue and strain as users of different heights can easily adjust the monitor to suit them.
DISPLAY-PORT
DisplayPort is a digital link from PC to monitor without any conversion. With higher capabilities than DVI standard, it is fully capable to support up to 15 metre cables and 10.8 Gbps/sec data transfer. With this high performance and zero latency, you get the fastest imaging and refresh rates.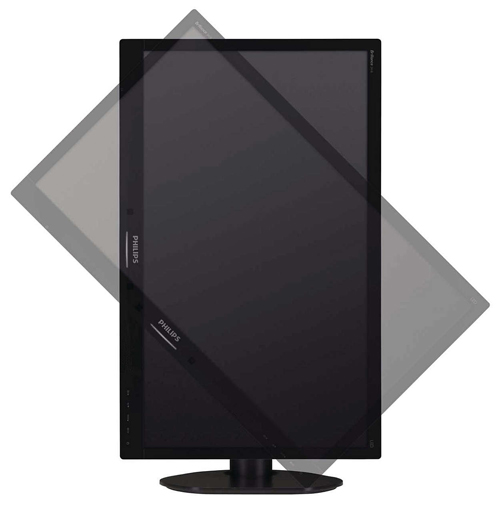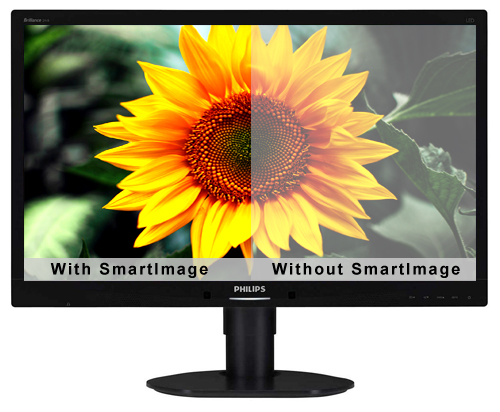 OPTIMISE YOUR DISPLAY
Philips leading technology SmartImage analyses the content displayed on the screen and automatically optimises the display performance. You can select various modes such as Office, Photo, Game, Economy, etc. SmartImage optimises the contrast, colour saturation and sharpness of images.
NATURAL COLOUR
LED technology ensures natural colours. Offering consistent brightness and faster start up time. Providing better dimming control, high contrast ratio and superior colour reproduction.
Features:
Screen size - 24 in
Aspect Ratio - 16:9
Image Contrast Ratio - 20000000:1
Brightness - 250 cd/m2
Colour – Black
Maximum Resolution - 1920x1080 pixels
Response Time - 5 MS
Warranty - 3 years warranty
Touch screen type - N/A
3D compatibility – No
Backlight type - W-LED system
Picture enhancement – SmartImage
sRGB – Yes
Connectivity
DisplayPort
DVI-D (digital, HDCP)
VGA (Analogue)
USB 2.0 x 2
Separate Sync
Sync on Green
PC audio-in
Headphone out
Popular Features
24 Inch Screen size
1920 x 1080 Full HD Resolution
Ports - DVI DisplayPort VGA USB
16:9 Aspect Ratio
Refresh Rates - 75 Hz
5 MS Response Time
Speakers
Warranty - 3 year warranty
Tilt adjustment - Y