Product Information

WHAT IS KLIKR?
Klikr is a clever little gadget that lets you operate almost any remote controlled device from your smartphone. Simply stick a Klikr onto or beside the product that you wish to operate and within minutes you'll be able to enjoy complete control from the comfort of your smart device.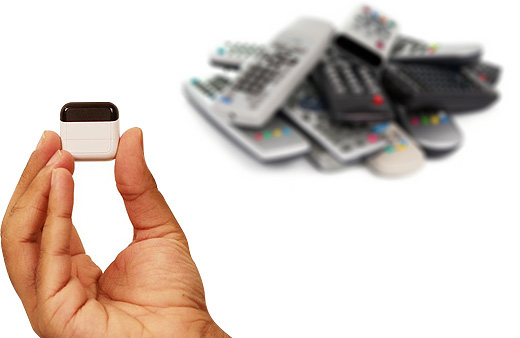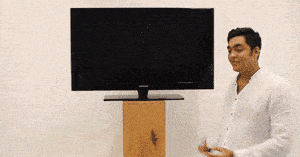 WHAT DOES IT WORK WITH?
It's designed to work with pretty much anything that can be operated with an infrared remote control, which could include a TV, Sky box, Blu-Ray player, Hi-Fi system, Streaming device (Roku, Apple TV, Amazon fire TV), or air-conditioner.

HOW MANY DEVICES CAN I OPERATE?
There's no limit to how many Klikr's you can use. One Klikr will let you control one device, so the more Klikr's you have, the more devices you'll be able to operate. Plus, no matter how many Klikr's you decide to purchase, you'll be able to control them all through the app's dashboard with just a swipe. There's even the option to organise your devices in your home, room by room.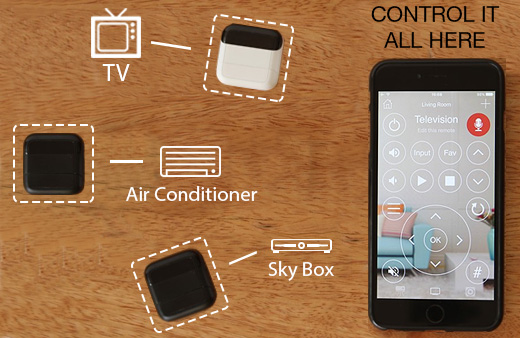 ALL-IN-ONE REMOTE
If you're like us then you probably have several remote controls scattered around your home, all of which are determined to keep you in a lifelong game of hide and seek. Thankfully Klikr is here to help. It lets you replace all your existing remote controls with a remote to rule them all - your smartphone, after all it's always within arm's reach. However, Klikr is so much more than a universal remote though, it comes with some very clever features like: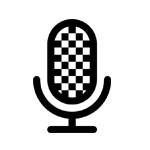 VOICE CONTROL
Interact with your devices without having to lift a finger. For example: Control your TV by saying things like "Turn on the TV" or "Change the channel", etc.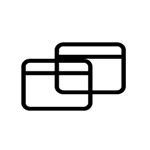 MULTITASK
Want to control the temperature on multiple air conditioner units? Place a Klikr on each of them and control all units with a single press of a button!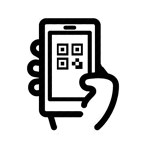 SHARE YOUR CONTROL
If you're feeling friendly then you can share your Klikr's settings with other devices in seconds with a quick scan of a QR code.

NEVER MISS A MOMENT
If you receive a phone call while watching Netflix, this optional feature will automatically pause or mute it until you've finished with your call.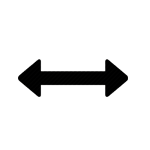 BETTER CONTROL RANGE
Enjoy increased range of your gadgets compared with your old remote controls and operate them from a distance of up to 10m.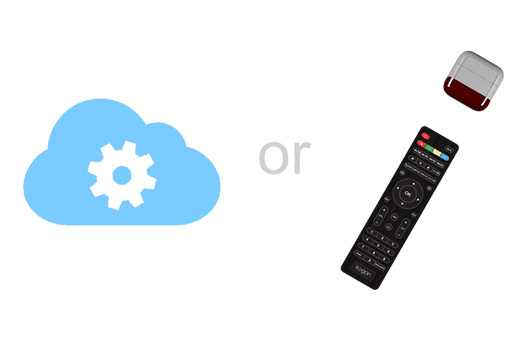 EASY TO SET UP
All of these features sound great, but what if we also told you it is amazingly simple to set up? Simply position the Klikr near or on a device you want to control and follow the guide on your smartphone by entering a short sequence of keypresses on your remote. You can also search your brand device from Klikr's extensive data base. Plus, all your setup and devices can be backed up on the cloud in the event you lose or change your phone - that way you won't have to set them all up again.

Features:
Turn your iOS or Android device into the ultimate universal remote.
No more lost remotes - control via your smartphone.
Works with TVs, Air cons, PVRs, Hi-Fi systems, Blu-ray players, Games consoles & More
Remove the clutter of your remote controls and save a tidy sum of money replacing batteries.
Comes in a choice of colours - black or white.
6 Months battery life rated at 100 clicks per day.
Uses low energy Bluetooth 4.0
Works with all iOS 7/Android 4.4 and above devices.
Dimensions:
W x H x D: 32 x 32 x 9.5mm
Weight: 10g