Product Information
Building your own personal computer?
The Barebone provides a pre-assembled combination of several basic components that a computer system must have and leaves spaces for you to select the important components you need or want. Often these components are things which can be upgraded frequently such as CPU, memory, hard drive and video card. You cannot run the Barebone without installing these components.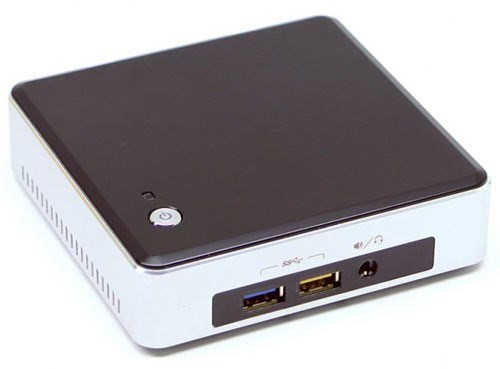 Intel have completed 95% of the work with the NUC NUC5i5RYK ensuring a solid, high performance system. All you need to do is supply the memory, storage drive and software.
A revolution in ultra-compact design this 4 inch square is packed full of features. Equipped with a 5th generation Intel Core i5-5250U processor with Intel Turbo boost technology 2.01 delivers you extra GHz on demand, allowing you to maximize performance on tasks which are intense on the processor such as media editing.
Thanks to the replaceable lid you have lots of options to create the Intel NUC you want with amazing features and style. There are compatible lids which add more functionality such as wireless charging and near field communications. There are also covers that bolster the I/O ports, allowing you to add USB 2.0, VGA, RS232C COM, SDCX card reader and other ports. (Please note: There covers are not included with this purchase)
The Intel NUC delivers you visually stunning graphics with the Intel HD graphics 6000 combined with the 4K display capabilities.
You are able to easily and quickly charge your smartphone or tablet with the USB 3.0 high speed charging port.
The NUC NUC5i5RYK is ideal for home theatre PC's, home hubs and media server PC's as its complete with WiFi 802.11ac wireless, Bluetooth and 7.1 surround sound.
There's embedded security which will help keep threats out, ensuring user identities and credentials are safe.

Features:
Form Factor - UCFF
Processor - Intel Core i5 i5-5250U - 1.6 GHz
RAM - 0 MB
Graphics -
Optical Drive - None
Operating System - No operating system
Warranty - 3 years warranty