Product Information
TOP SPEC, LOW PRICE
Are you looking for a high quality, top of the range smartphone but don't want to pay the hefty price tag? Then you've come to the right place.
The Honor 5X has the feel and performance of a premium smartphone, jam-packed with features at a tiny price compared to its competitors.
You might not have heard of Honor, but they are an up and coming brand that are competing with brands like Samsung and Apple in the world rankings.
A huge 5.5 inch display leaves nothing to the imagination as you will see absolutely everything. The build of the phone has a brushed metal effect and has a curved back so it will sit comfortably in your hand. A Qualcomm Snapdragon 64-bit Octa-Core with 2GB of RAM give you a speedy phone which will load files and webpages in an instant. And with a 16GB memory you'll have plenty of space to store those photos, videos and songs.
The MicroSD card slot even lets you expand the memory of your phone up to 128GB, so you'll never run out of space.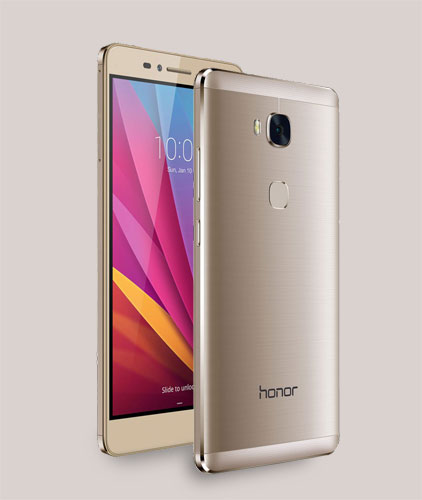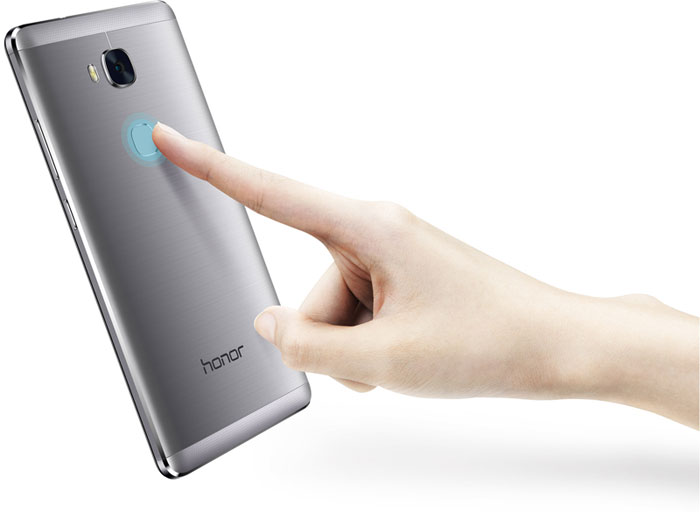 A TOUCH OF MAGIC
Unleash plenty of features with a simple touch or movement of a finger. The intuitive fingerprint sensor on the back of the Honor 5X acts as a security device as well as the gateway to quicker access to different files and features.
To unlock your phone, you simply touch the sensor and you'll be on your way within half a second. This amazing feature is adaptive too so if you try to unlock your phone with wet hands, or only catch the sensor with part of your fingertip, don't worry - it will still recognise your print.
You can set up the sensor for speedy dialling by assigning a contact to one of your fingers, even when the phone is locked. Launch apps, take photos and selfies or operate your notifications bar in the same way. It is so easy.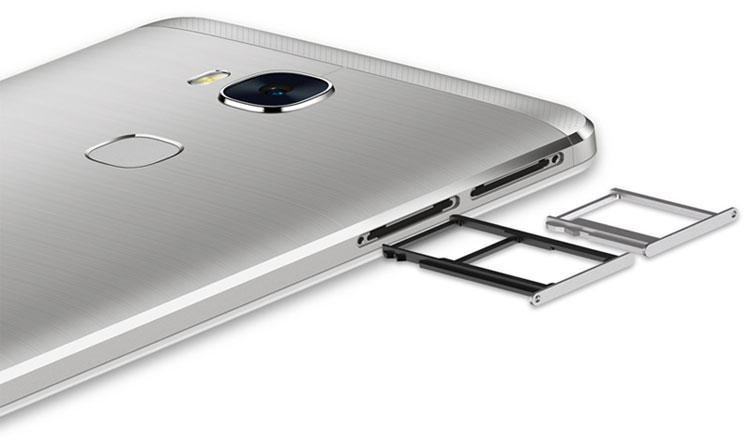 STAY CONNECTED
With dual SIM you can combine work and play all on the same device. Both SIMs have full capability in the Honor 5X so you can experience 4G from either of your cards. And with no distinction between the primary and secondary SIMs, you can choose which to use for data so you'll never be short.
Dual SIM is ideal for workers who would prefer to use one device rather than two. It is also great for travelling abroad to bypass those high roaming charges.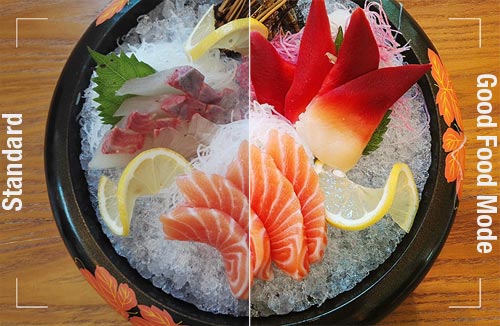 PHOTOS GOOD ENOUGH TO EAT
Do you enjoy taking photos of your breakfast, lunch or dinner? Plenty of us do and Honor have an innovative feature that will make your meals look tastier than you could ever imagine. Good Food Mode gives photos of your meals a sense of realism with stunning colours.
The camera does much more than that though, so if you're not a foodie photographer, don't worry!
The 13MP camera delivers incredible detail and colours alone, but also includes several features that will make you a better photographer than you could have ever dreamed of.
The selfie mode makes sure you look your best on those cheesy snaps while other features such as demist, ultra-snapshot, watermarks and object tracking help to make those photos look great.
It doesn't just perform well with still images either. You can become a quality film maker in your own right thanks to the handy video features.
Time-lapse takes photos at set intervals and allows you to compile them into short videos and slow motion mode films at 120 fps so you can watch them back four times slower than real life.

ALL DAY LONG
The 3000mAh battery means you don't need to worry about charging the Honor 5X several times a day, or even every day! With moderate use it will last almost a day and a half or over a day with heavy use.
SmartPower 3.0 technology reduces the charging time of the Honor 5X, so when the inevitable does happen and you run out of power, it'll be full and ready to go again in no time.
Key Features
5.5 inch Full HD display (1920 x 1080)
4G
3000mAh battery
Fingerprint sensor
16GB memory - expandable to up to 128GB
13MP dual camera
Android OS
Dual SIM
Qualcomm Snapdragon Octa-Core Processor
Gold back and front (Also available in silver and grey)
Dimensions
H 154.5 x W 75.24 x D 9.7mm