Product Information
This is a graded product. A1 products are "as new" but have been box opened. All A1 products will be fully bubble-wrapped for transportation.
GRADE A1
WORKOUT IN TOTAL FREEDOM
Leave your phone at home when you wear the Samsung Gear Fit 2.
Monitor your daily activities with a simple glance at your wrist. Track steps taken, calories burned, floors climbed, heartrate, sleep quality and more.
SLEEK & DISCREET
The sleek and unobtrusive design is delightfully light and easy to wear.
This fitness band packs a punch with its functionality whilst the curved 1.5" super AMOLED display stylishly wraps around your wrist.
Displaying activity and notifications in full colour the Gear Fit 2 is easy to read in both sun and shade.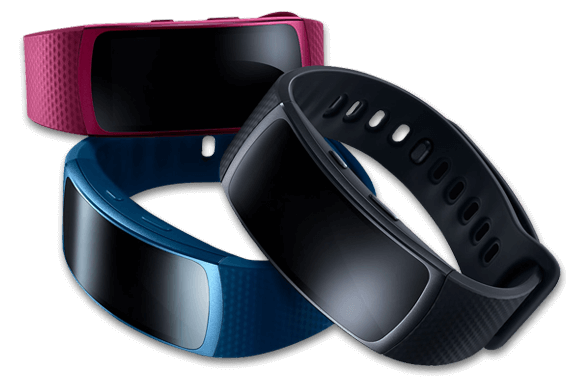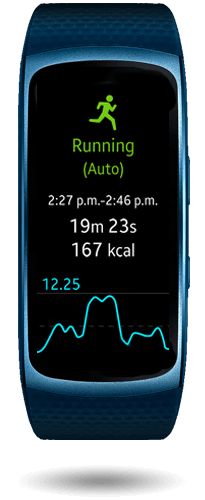 ADVANCED FITNESS TRACKING
Highly intuitive there's no need to tell the Gear Fit 2 what you're doing, with auto activity tracking it already knows. Easily distinguishing between different physical activities, whether you're cycling to work or pushing yourself hard at the gym the Gear Fit 2 delivers accurate on the go stats and exercise session summaries.
You can also select an appropriate activity mode and begin tracking strength training, pilates, yoga and more. With a durable, water resistant design the Gear Fit 2 can withstand harsh exercise conditions, there's no limits to your workout.

BUILT-IN GPS
There's no need to cautiously run with your smartphone, the Gear Fit 2 has built-in GPS, map your run right on your wrist. Track running route, distance and speed in real time with precision. Easily check your progress at a glance.
NEVER MISS A BEAT
Equipped with a highly accurate heart rate monitor the Gear Fit 2 enables you to get the most out of your workouts. Effortlessly check when you're in the vigorous intensity zone to step up the intensity of your workout and really push yourself.
FUNCTIONALITY
The Gear Fit 2 will become not just your fitness partner but also a daily essential. This practical fitness band displays your smartphone alerts right on your wrist. Keep up to date with your calendar notifications, receive and respond to texts, calls and more.
Featuring a standard music player the Gear Fit 2 can play your favourite music to get you motivated. Store your songs or access your Spotify account, all without having to take your phone out your pocket or bag.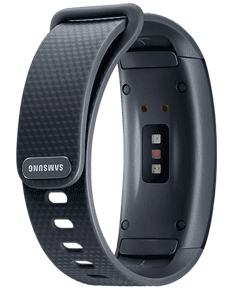 MAKE IT YOUR OWN
The Gear Fit 2 has a selection of display designs to choose from. Have your stats displayed in a stylish manner that suits you, for quick glances and updates.
Set up a little friendly competition to keep you motivated. Connect with a friend and rise to the challenge. Compete for most steps or furthest distance and see updates on who's coming out on top.
With fitness widgets there's motivation around the clock. Designed to get you in the fitness frame of mind and maintain it.
COMPATIBILITY
Compatible with a wide range of smartphones the Samsung Gear Fit 2 is accessible to everyone. Gear Fit 2 works alongside Android 4.4 and higher with over 1.5GB RAM, iOS 9.0 and later, and smartphones iPhone 5 and newer.
Features:
Track steps, sleep, calories, heart rate and more
Track your fitness without keeping your phone on you
Receive and respond to notifications, calls and texts right on your wrist
Highly accurate heart rate monitor, see when you're in the vigorous intensity zone
Built-in GPS tracks running route, distance and speed in real time
Auto activity tracking delivers correct stats instantly
Sleek, unobtrusive design with a wrap-around screen
Delightfully light and easy to wear
Super AMOLED 1.5" curved display, for quick updates at a glance
Easy to understand and navigate display
Fitness widgets, designed to get you motivated
Set up friendly competition with friends
Water resistant, no matter how sweaty or rainy your workout session gets
Store your favourite music on the GearFit2 or connect with Spotify to access millions of songs
Works with a wide range of smartphones including iPhone 5 and newer
Compatible with Android 4.4 and higher, iOs 9.0 and later
RAM: 512MB
Storage: 4GB
Battery: 200mAh, typical usage time 3-4 days
Sensor: GPS, HR, Accelerometer, Gyro, Barometer