Product Information
A1 Refurbished
A1 are open boxed units which have been returned usually due to being unwanted. The units may have at very worst case have very faint minor /non-permanent blemishes. All units then undergo a full 25-point inspection by our experienced tech team ensuring they are in full working order. Once all relevant checks have been complete the units are then securely repacked ready to be resold. Please note although we can't guarantee that these units are still in their original boxes with all their original accessories we can confirm that on average 85% of our stock is still in its original packaging.
This is a graded product. A1 products are 'as new' but have been box opened. All A1 products will be fully bubble-wrapped for transportation.
Bracket Type: Flat to wall
TV Screen Size: 32 - 70 Inch
Load Capacity: 45Kg
Mount Dimensions: (W*H) 660mm x 420mm
Vesa Size: Any vesa up to 600mm x 400mm
This great value flat to wall bracket is designed to be used with displays measuring up to 70 inch. It offers a variable VESA mounting up to 600 x 400mm to accommodate displays ranging from 32inch - 70inch. The built-in spirit level ensures quick and easy level mounting. It includes all the screws to fit the bracket to your TV and the fittings to secure the wall bracket to the wall.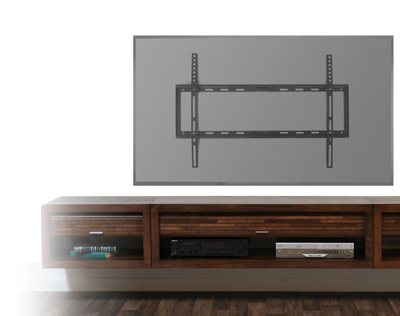 IS THIS BRACKET RIGHT FOR ME?

WHAT IS MY VESA?
First of all you'll want to know what the VESA size on your TV is. This information can usually be found on the manufactuers website or within the TV's user manual. Alternatively, if you've already purchased the TV, you can measure the VESA yourself on the back of the TV. Simply measure the distance (mm) between holes A-B and A-C and you're ready to go. You'll then want to choose a bracket that supports your TV's VESA.
BRACKET SIZE?
Once you've got your VESA measurements you'll then want to find out what the width and height of your TV screen is. After all, you don't want to waste time installing the bracket only to find out that it's clearly overhanging from behind the TV in full view. Ideally you want the TV bracket to be discreetly concealed out of the way. You'll therefore want to make sure you choose a bracket with smaller dimensions compared with the size of your TV screen.
Features:
Flat to wall Mount
For TVs up to 70 Inch
Holds up to 45kg
Universal vesa fitting up to 600 x 400mm
1 Year Warranty

Download Instruction Manual