Product Information
ALWAYS AT HOME
Answer the door from anywhere in the world and even let people in with the Wi-Fi doorbell from electriQ! Don't miss a visitor again – see them, hear them and speak to them whether you are at the shops, at work or laying on a sunbed in the Caribbean.
Much more than just a doorbell, this offering from electriQ helps to add an extra level of security to your home.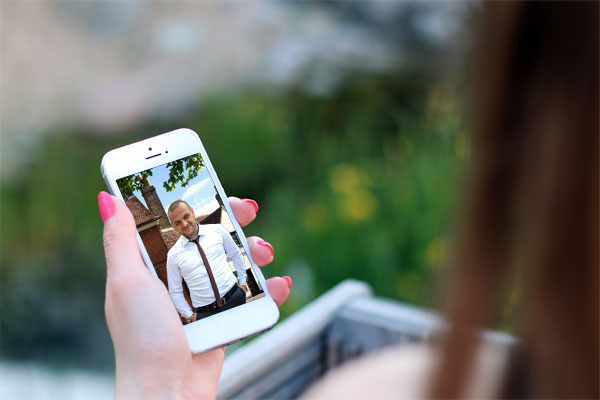 INCREASE YOUR SECURITY
Control your home security from the palm of your hand – all day, every day.
If someone rings the bell, whether you are upstairs, at work or halfway around the world, you can quickly answer, so it will always look like you are in.
When someone rings the bell in the middle of the night, see who is there before you open the door. Send them away if you don't know who they are, or let them in with the touch of a button if it is someone you're expecting.
MORE CONVENIENT
Do you find it hard to arrange delivery times around your work schedule? With the Wi-Fi doorbell, you will know when it arrives. Ask the driver to leave your parcel in a safe place or with a neighbour and save yourself a trip to the depot!
If you are on holiday and need someone to feed the cats – we've got you covered. Arrange with a friend or neighbour to help you out and, rather than leaving them a key, when they ring the bell you can let them straight in.
Or if you are simply too busy to come to the door, see who is there and send them away or tell them you'll be there in a minute.
NIGHT AND DAY
The Wi-Fi doorbell provides constant cover for your home and family. Infrared night vision technology gives you the ability to see in the dark – so you will know who is there at any time of the day.
Even if someone approaches the door, but doesn't ring the bell, you will receive an alert on your phone. The motion sensors detect, record and alert you when there is any movement. That could be the postman, milkman or a potential intruder. Whoever it is, speak to them and let them know you are there.
USEFUL FEATURES
You will receive an alert through your smartphone as soon as the bell has been rung. If you are at home and your phone is charging in another room, the provided sound box delivers a doorbell tone so you will still know there is someone at the door.
The lens offers a 180° viewing angle, so you can see who is there, whether they are a small child or a tall adult.
QUICK TO INSTALL
Installation is quick, easy and permanent. It offers a number of options, allowing you to connect to a smart lock so you can unlock your door from your phone. Connect to your network using the provided Wi-Fi antenna or the network cable and you are ready to go.
Features
Motion detector notices when someone is on your property
Answer your front door from anywhere, at anytime with our video doorbell
Unlock function - remotely open the door!
Two way audio means you can speak with your visitor Compatible with any smartphone or tablet
Infrared for perfect vision at night
Internal memory of 8GB for continuous recording
Dimensions: H: 130 x W 55 x D 42 mm