What's included?
Your modern business deserves the best tools and applications, including all the familiar favourites we have come to know and love - on any device at any time.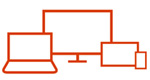 Multiple Devices
Work anywhere, anytime, on any device. Office 365 is ready when you are. Create, edit and share information from any device.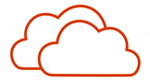 1TB storage per user
Office 365 Business Premium provides a place in the cloud where you can store, share and sync your work files, across any browser or device.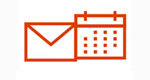 Email and calendaring
Office 365 Business Premium helps you stay on top of what matters with a clear, unified view of your email, calendar, and contacts.

Outlook
Work efficiently with email, calendar, contacts, tasks, and more. Office integration allows you to share attachments right from OneDrive, access contacts, and view LinkedIn profiles.

OneDrive
Seamless collaboration with anyone inside or outside your organization. Securely share files and work together using Word, Excel and PowerPoint across web, mobile and desktop.

Word
Write with confidence, knowing intelligent technology can help with spelling, grammar, and even stylistic writing suggestions.

Excel
Excel learns your patterns, organizing your data to save you time. Create spreadsheets with ease from templates or on your own, and perform calculations with modern formulas.

PowerPoint
Get your ideas across with beautiful design, rich animation, cinematic motion, 3D models and icons. Intelligent technology helps you bring your presentations to life.

SharePoint
Share and manage content, knowledge, and applications to empower teamwork, quickly find information, and seamlessly collaborate across your organization.

Microsoft Teams
Teams is a complete chat and online meetings solution that lets you host audio, video, and web conferences, and chat with anyone inside or outside your organization.

Publisher
(PC Only)
Precisely lay out and style text, pictures and more in print, online, or in an email. Create everything from simple greeting cards and labels to newsletters and marketing materials.

Access
(PC Only)
Access can help you create appealing and highly functional applications from templates or from scratch with rich and intuitive design tools - all in a minimal amount of time.
Buy yours now »