Product Information
A1 Refurbished
A1 are open boxed units which have been returned usually due to being unwanted. The units may have at very worst case have very faint minor /non-permanent blemishes. All units then undergo a full 25-point inspection by our experienced tech team ensuring they are in full working order. Once all relevant checks have been complete the units are then securely repacked ready to be resold. Please note although we can't guarantee that these units are still in their original boxes with all their original accessories we can confirm that on average 85% of our stock is still in its original packaging.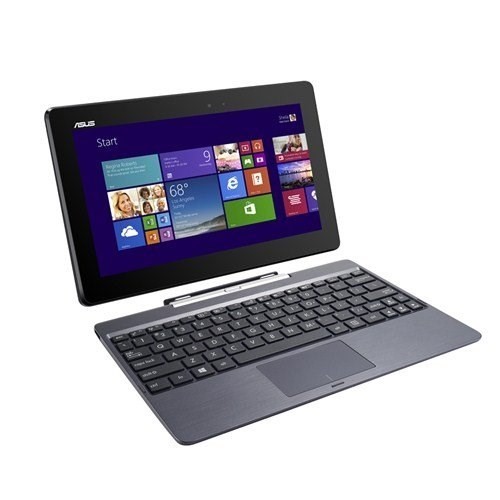 Two devices for the price of one, this Asus transformer has the power of a laptop and the convenience of a tablet, making it a supremely versatile and invaluable machine for those who want to optimize the portability of their work, movies, and apps!
With an included keyboard and multi touch screen, this transformer book is ready to go and really responsive – ideal for both work and play! Powered by the Z3735F Intel Atom processor with 2GB of RAM, this black finish laptop exudes a premium quality for a 2in1 device, and will not fail to thrill you with some fantastic features:
Performance
Powered by an Intel atom quad-core processor, this laptop and tablet duo is optimized for great performance, whilst remaining energy efficient.
The quad-core design makes the most of your processor, so that you can listen, watch, and play on the go, and the Intel Bay Trail-T chipset helps deliver a longer battery life at up to 11 hours, keeping you entertained and productive for longer!
Screen
Enhanced for entertainment, this Asus transformer book has a 10.1 inch HD screen, combined with IPS technology for a wide 178 degree viewing angles on the display – perfect for watching movies, playing games and putting together some truly sensational presentations!
Sound
Transformational in form, this Asus convertible will also transform your audio experience with Asus' top-notch SonicMaster stereo speakers!
Coming with Asus instant on technology, even the sound of the tablet section will remain instantaneous and high quality, delivering true to life sound no matter which device you have the transformer book converted to!
Connect
Turn your Asus transformer book into a one-machine sharing wonder by making the most of the provided ports and software found on the laptop!
Use the Micro HDMI out to watch movies, videos, listen to music, or view an album of HD holiday photos on your HDTV, and easily transfer those movies and music onto your transformer book 10 times faster with the USB 3.0 port.
As if this connective quality couldn't get any better, it also comes with Bluetooth to really transform your transformer into a hub for all your devices!
The tablet
The addition of a tablet gives you some added benefits that are separate from normal laptops: Weighing only 550g, you can simply pop the tablet off and carry on working, watching, or playing from a more comfortable position like the bed or sofa without having to drag the base around with you!
The multi-touch in tablet mode gives fine fingertip control, making you feel more connected than ever to your media, movies, and work, coming with Asus' Reading Mode technology that will adjust the display automatically to make the screen easier to read for longer periods of time!
Windows 8.1
Surf the net, watch movies, play games, and work with the tablet accommodating Windows 8.1
Just as personalised as a normal laptop, you can customize your start screen to the style of a tablet but with laptop type apps such as the provided Microsoft office Home & student 2013.
Perfect for working, you can continue to work with your favourite office apps, tablet or not, with a Keyboard that will makes quick work of notes, documents, spreadsheets, and presentations if you're in more of a hurry!
A Slim design and durable finish, thus Transformer book from Asus will pleasantly surprise and entertain you at every turn being versatile, fun, user-friendly, and powerful! A perfect combo for fun, work, and chill-out times!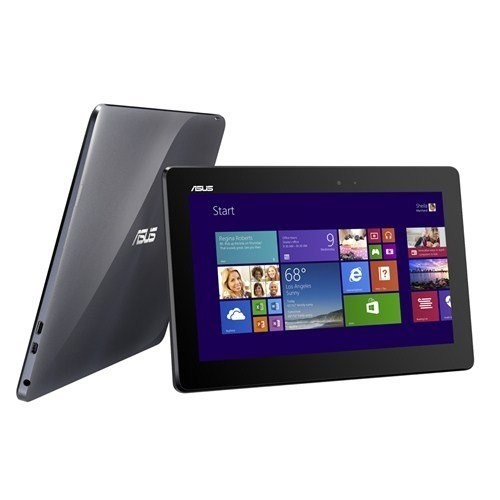 Screen - 10.1 in 1366 x 768
Operating System - Windows 8.1
Processor - Z3735F Intel Atom
Bluetooth
USB ports
Dimensions (H x W xD) - 20.5 mm x 263 mm x 171 mm
Weight - 1070 G