Product Information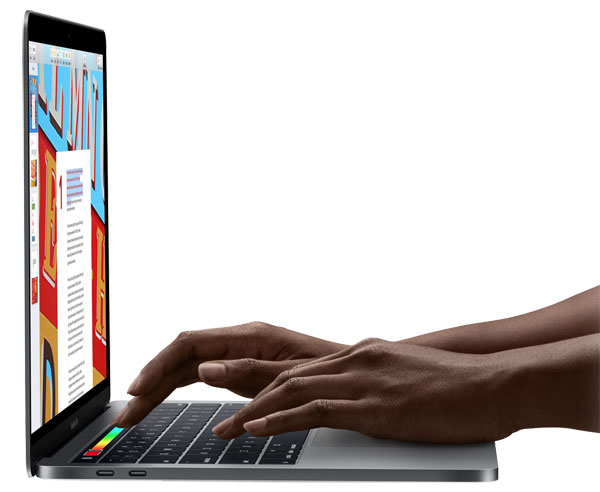 A REVOLUTIONARY WAY TO USE YOUR MAC
The Touch Bar replaces the function keys that have long occupied the top of your keyboard with something much more versatile and capable. It changes automatically based on what you're doing to show you relevant tools you already know how to use - system controls like volume and brightness, interactive ways to adjust or browse through content, intelligent typing features like emoji and predictive text, and more. For the first time, Touch ID is available on a Mac, enabling instant access to logins and fast, secure online purchases with Apple Pay.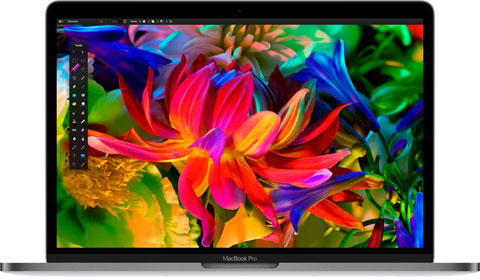 THE ULTIMATE TOOL OF EVERY TRADE
The MacBook Pro elevates the notebook to a whole new level of performance and portability. Wherever your ideas take you, you'll get there faster than ever with cutting-edge graphics, high-performance processors, state-of-the-art storage, and more.
THE BRIGHTEST, MOST COLORFUL MAC NOTEBOOK DISPLAY EVER
The display in the MacBook Pro is the best ever in a Mac notebook. It features brighter LED backlighting and an increased contrast ratio, delivering deeper blacks and brighter whites. Its larger pixel aperture and variable refresh rate make it more power efficient than previous generations. It is also the first Mac notebook to support wide color, for even more vibrant greens and reds. This ensures truer-to-life pictures with realistically vivid details, essential for graphic design, color grading, and editing.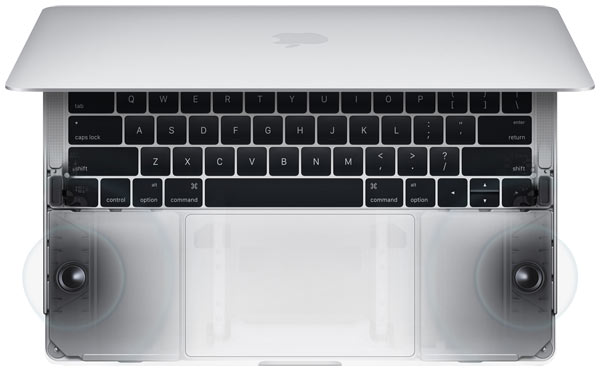 SPEAKERS THAT SPEAK FOR THEMSELVES, LOUDLY
The speakers have been totally redesigned to provide as much as twice the dynamic range and up to 58 percent more volume, with two and a half times louder bass for maximum boom. They're connected directly to system power, enabling up to three times more peak power. So they make MacBook Pro the perfect choice for mixing a track on the fly, editing video on location, or enjoying a movie on the go.

MORE RESPONSIVE KEYBOARD, MORE EXPANSIVE TRACKPAD
Interacting with the MacBook Pro is a better experience all around. The keyboard has been redesigned to include the second-generation butterfly mechanism - meticulously refined for greater comfort and responsiveness. The Force Touch trackpad is significantly larger, giving your fingers more room to gesture and click.
THE MOST POWERFUL AND VERSATILE PORT EVER
Thunderbolt 3 combines ultra-high bandwidth with the ultra-versatility of the USB-C industry standard to create one revved-up universal port. It integrates data transfer, charging, and video output in a single connector, delivering up to 40 Gbps of throughput for twice the bandwidth of Thunderbolt 2. Existing devices are easily connected with a cable or adapter. The Thunderbolt 3 is reversible, so no matter how you plug in, it's always right side up.