Product Information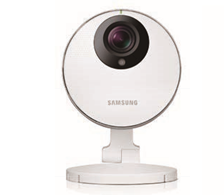 Simple, smart and secure, the Samsung SmartCam will keep a watchful eye over your home whilst you're away. From children to pets, having a SmartCam will revitalise the security of your home and give you the peace of mind you deserve.
View anywhere, on any device
No matter whether you're iOS or Android, on a laptop or tablet, you can access this SmartCam from anywhere on any device.
Night Vision
At night, the SmartCam has a black and white mode so you watch at any time of day.
Two-Way talk
Keep connected to loved ones from anywhere by chatting to them via the two-way talk feature – you can even play lullabies through it!
Capture all the details
This SmartCam comes prepared with a 1080p resolution and a large ½.8-inch CMOS sensor that allows in maximum light so that you can experience vivid colours, clear images and bright video.
Ultra-wide viewing
Want to view more without sacrificing on quality? This Samsung SmartCam has a 128° angle lens and a pan and zoom featre that gives you a wider view of your home whilst keeping its stunning HD quality, so you can see more than ever before!
Stable LIVE streaming
Tired of pixelated faces and the buffer bar? Providing less interference and creating a reliable connection, this SmartCam supports dual band frequency so that you don't miss a thing!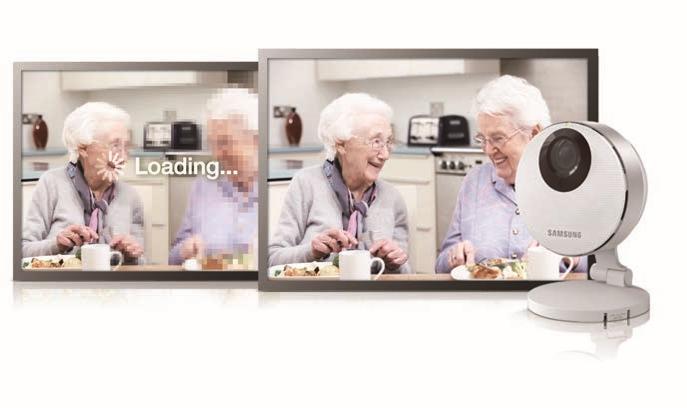 Motion Zone select
Be there to witness the action with the SmartCam's motion zones. Draw a box around areas like windows and doors, so whenever motion and audio is detected in those zones a message will be sent to your device.
Backlight compensation
Enhancing details in backlit conditions to give you a clear view of the outside while eliminating silhouettes in the foreground, this camera can see everything outside or inside.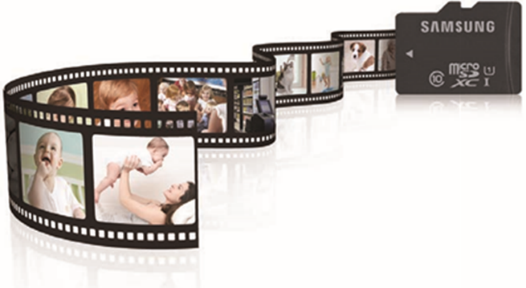 Record what matters most
A microSD™ card slot on the SmartCam lets you store your events on a 64GB microSDXC memory card. Set your camera for continuous recording, scheduled times or motion and sound detection.
Plug and play!
Step 1 - connect your SmartCam with a push of a button
Step 2 - Sign-up and register from your SmartCam
Step 3 - View: And you're ready to go!
Key Features
Easy to set up 1080p IP camera for home or business security
Dual band frequency for stable live streaming
64GB microSDXC memory card
Night Vision
Ultra-wide 128° viewing angle
Two-way talk
Digital zoom and pan feature
Motion zone select
32GB microSD™ card slot
Click Here to download PDF data-sheet.
Click Here to download PDF manual for Android devices.
Click Here to download PDF manual for Apple devices.
Contents:
1x SmartCam HD Pro Camera
Quick guide
Power adaptor
Network cable
Double sided tape
Screws
Wall anchors
Ferrite cord