Product Information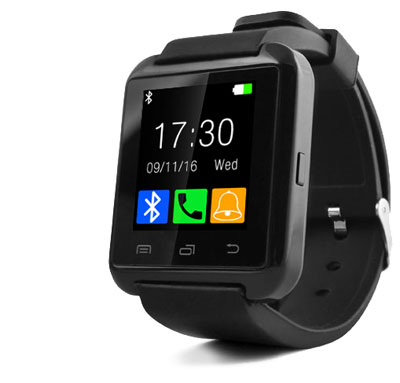 Smart Watch - Smart Price
The iQ Smart Watch is designed with you in mind. This fully customisable, Android compatible Smart Watch is packed with features, letting you make and receive calls, read messages, track steps, play music, or simply check the date and time on the beautiful display
Touch-Sensitive Screen
The touch-sensitive screen allows you to swipe, scroll and tap your way through the intuitive menus of the iQ Smart Watch. The screen features adjustable brightness settings as well as the ability to customise it's clock face and background colour to suit you, giving you all the control you need for easy, reliable, day to day use.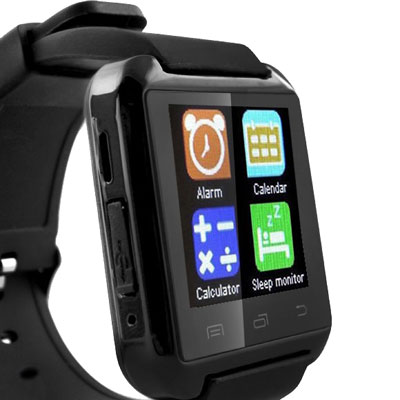 Handy Features
The iQ Smart Watch comes with excellent features built right into the device, simply connect to your phone and go! Make use of alarms to give yourself important reminders, use the calculator to conveniently work out equations, call notifications alert you when you're being called and use the pedometer to track your fitness.
The watch also comes with an altimeter and a barometer allowing you to check your altitude and the room's temperature at any time. Stream your phone's music to the smartwatch for your portable, easy access music library; right from your wrist!
Battery Life
The iQ Smart Watch features a 235mAh battery which offers you plenty of power to keep the watch going for up to 48 hours! Use the watch and all its features for hours on end; once the battery runs out, you can quickly re-charge with the included USB cable.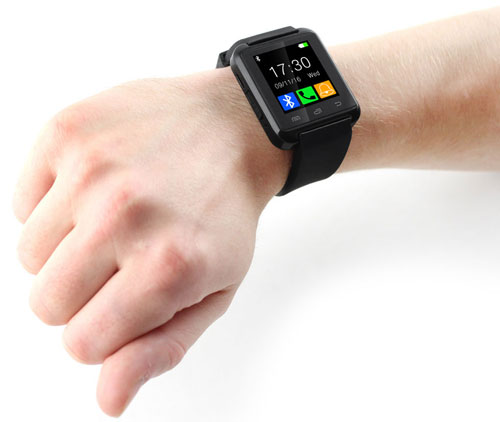 Stylish Technology
This watch features a contemporary, modern design; constructed from a blend of black durable plastics and metal, this clever little device will feel right at home on your wrist. Whether you're at work, at home or out and about, the IQ Smart watch will always look good.
Convenience At Its Best
The iQ Smart watch offers convenience and user friendly controls above all things. You can leave your phone safely tucked away whilst still viewing the basics with a quick glance toward your wrist; perfect when on a run or working hard at the gym.
There is also an anti-loss feature which notifies you when you leave your phone's Bluetooth range, so you'll never leave your phone behind again!
Android-Exclusive Features
Thanks to the "BT Notifier" companion application, Android users can access additional features such as SMS notifications and the remote camera feature. Set up the perfect shot and capture it from your wrist, the watch even previews your photo on its screen for perfect pictures every time
Key Features
Amazing value - fully featured Smart Watch compatible with all Android phones
Answer calls and read messages from your wrist!
Control your phone music from your watch!
Loads of built-in apps including pedometer, altimeter and barometer!"
Built-in phone tracker - no more lost phones!
Multi size strap - ideal for both adults or children
48-Hour battery life
Free app to synchronise with your phone