Lenovo. New World, New Thinking.
Lenovo consistently make award winning PCs, laptops, ultrabooks and tablets. Stretching outside of standard company constraints; Lenovo source globally to utilize innovation and creativity from around the world. This unique approach allows for truly innovative products and services.
Lenovo pride themselves on being part of a new thinking, new world that meets and exceeds customer needs.
Not just a manufacturer of electronics, not just technology. Lenovo work for those who do. Do more, do the best, do the unknown and do the astounding with Lenovo.
Lenovo work hard to help you ascend to new heights; empowering you to do. Create, build and inspire; Lenovo give you the tools to accomplish your dreams and make them a reality.
Lenovo are dedicated to being vigilant when it comes to protecting the environment and have a Think Green approach to all their operations worldwide.
Lenovo products are developed and manufactured to be energy efficient with a minimal impact on the environment. This is achieved through the use of recycled and environmentally preferred materials, careful design and the use of environmentally friendly packaging.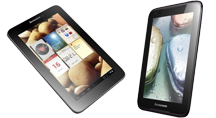 Android Tablets
Lenovo's powerful and stylish tablets, coupled with the deep interactivity, effortless multitasking, and customizability of Android, makes for a truly mobile computing experience.
Thanks to Android 4.2 this experience is enhanced even further with features like 'Gesture Typing' to help make work, emails, and more, so much easier.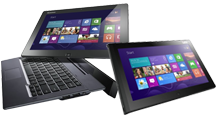 Windows Tablets
Windows 8 and Lenovo join together to create tablets that work for you and with you. Multitasking is taken a step further as you snap two apps side by side and work seamlessly between the two.
Thanks to the stylish tile system you can place your apps, contacts and sites on the Start screen with live updates keeping you up to date.
Go anywhere and do anything with a simple click, thanks to Lenovo and Windows 8.

Lenovo's ultrabooks come with super slim builds and are extremely lightweight. These features are enhanced by long battery life and their ability to wake up instantly; letting you get straight to work. Work on the go, wherever you want and however you want with an ultra-portable ultrabook from Lenovo, for those who do.

IdeaPad Laptops
Power your mind and creativity with the inspiring IdeaPad laptops from Lenovo.
Whether for the regular commuter, the hard-core gamer, or artist, the IdeaPad series is the ideal companion.
With the latest graphics, processors and audio technology encapsulated in a stylish and durable body; IdeaPad laptops stand as champions in the ultrabook category.

Lenovo IdeaCentre All-In-Ones
For a desktop that offers all the latest features and components with an elegant design, look to the Lenovo IdeaCentre desktop series.
There are some excellent all-in-one systems filled with an abundance of cutting-edge multimedia options.
IdeaCentre desktop PCs are available in a range of sizes to accommodate to a variety of lifestyles and needs.

Lenovo Essentials Desktops
For hassle free computing with brilliant money-saving prices, the Lenovo Essentials desktop range is perfect.
From ultra slim and sleek all-in-ones to super-compact towers; there are plenty of options that give great performance while saving on precious desk space.