Product Information
MAKE ANY TV A SMART TV
Nothing on TV? Think again. This clever little device is about to make your TV experience a whole lot more exciting. Simply plug the IQ Smart into your existing TVs HDMI port and start streaming a world of online entertainment from the comfort of your couch. Its the easiest and most affordable way of upgrading your tv into a smart tv without spending a fortune on a new TV.
With nothing pre-installed on the IQ Smart Stick, you can download the apps that you just want to use and not have to waste time searching through apps that youll never use. All apps are available to download from the Google Play store including Kodi, Netflix, BBC iPlayer, ITV hub, All 4, Spotify, YouTube and so much more.
LIMITLESS ENTERTAINMENT
Choose from over 200,000 movies and TV shows, 30 million songs, sports events and games via the google play store. So no matter what youre into, theres an app for it. Just try not to fight over the remote control.
Theres also a built-in web browser for you to surf the web and enjoy some big screen browsing. This mini yet mighty stick packs in a Quad Core processor, 1GB of RAM and 8GB of internal storage which offers lightning fast web browsing, multi-tasking and plenty of storage space for you to download all your favourite apps.
SIMPLE AND EASY TO USE
Access what you want, when you want using the intuitive interface and quick access toolbar to your most-used apps and games. The IQ smart stick comes with a remote control to easily navigate around your screen. You can use the remote control to swipe between apps, or switch to mouse mode and use the onscreen cursor to make your selection.
BLUETOOTH & USB COMPATIBLE
The IQ Smart supports USB and Bluetooth devices so you can connect a whole heap of accessories to enhance your user experience. For example, you can pair your IQ Smart with a device that youre already familiar with like a smartphone, tablet, game controller, gyro remote, or a keyboard and mouse, and enjoy total control of your entertainment.
Plus, you can wirelessly send the audio from your TV to your Bluetooth compatible headset and listen in private without disturbing others - perfect for those late night movie marathons.
TAKE IT ANYWHERE
This thumb-sized smart stick is small enough to fit in your pocket and take anywhere. It works with any HD TV, connects via Wi-Fi and is simple to set up - perfect for moving it from TV to TV or on the go. For example, use it at your friends house to watch a movie together, or catch up on your favourite online shows when away on holiday.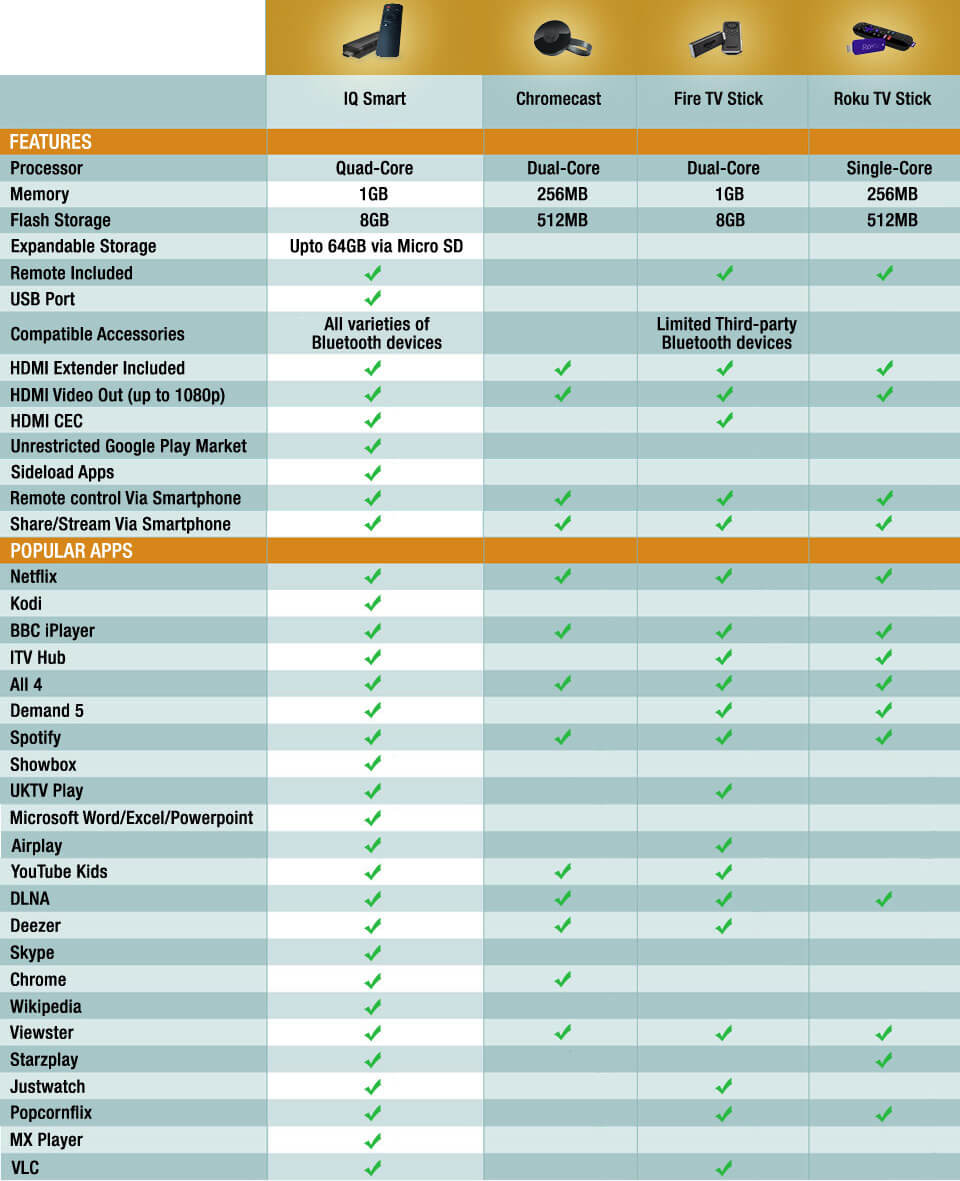 Features
Turn any TV Smart!
Plug in and start streaming in minutes
Full access to Google Play store
Stream the latest movies and live sporting events
All your favourite apps in one place - Netflix, BBC iPlayer, Kodi and many more
Works with any HDMI HDTV
Android 4.4
Quad Core Processor
1GB RAM
8GB Internal storage
Built-in Web Browser
Bluetooth and USB compatible
H265 hardware decoding
3D Hardware acceleration
Full HD 1080p support
Micro SD card slot
Box Contents:
1 x IQ Smart HDMI Stick
1 x HDMI Extender
1 x IR Remote Control and IR Receiver
1 x USB Power Adapter (1.5 Amps) and USB cable
Dimensions
W x H x D: 90.5 x 34 x 15.5mm
Weight: 35g

Download Instruction Manual

Why choose us?
We've won awards for our products

We use the same factories as bigger brands

We offer hassle-free warranty

We have top notch customer service