Product Information
See every angle with the THETA S 360° camera from Ricoh. If you don't know what to focus on, this ingenious device lets you focus on everything so you'll never miss a thing. Use one to record every moment from a holiday, big day or just for fun.
HIGH RESOLUTION
The quality and detail of the images and videos recorded using the THETA S are incredibly detailed. With Full HD recording, you'll capture evertyhing from the moment and be fully immersed to feel just like you are there.
Record special moments so you can experience them over and over again in stunning Full HD at 30fps, or take incredible snaps to share and let others enjoy your experiences with you, both thanks to the two 1/2.3-inch 12MP CMOS sensors. The newly developed f2.0 lenses make shooting in low light easy, showing every detail.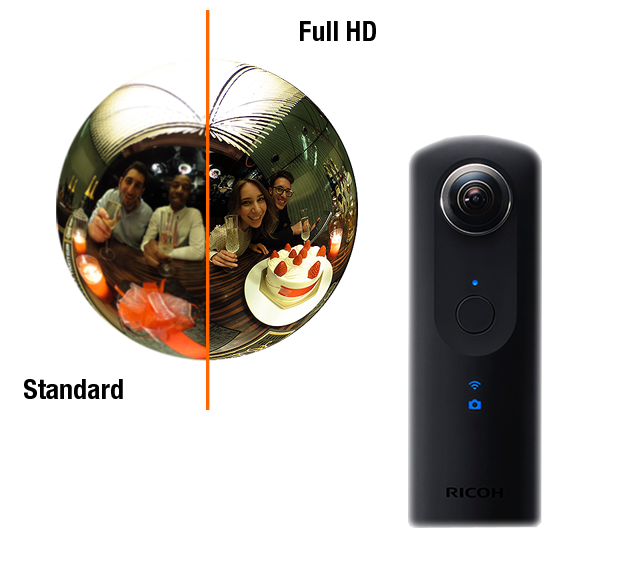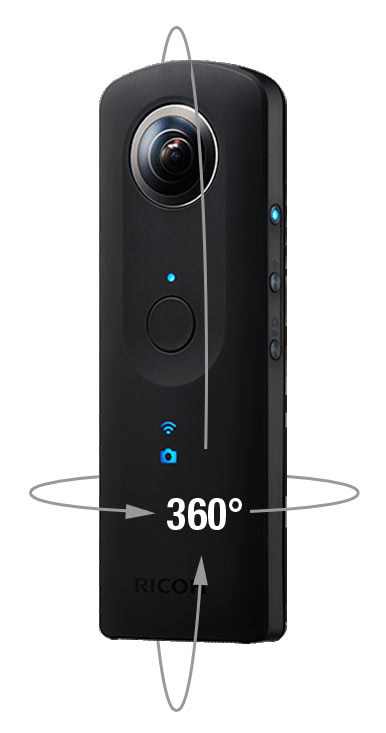 A MYRIAD OF EXPRESSIONS AND POSSIBILITIES
The THETA S 360° camera is much more than just a camera. It further expands the possibilities of 360° photography. Equipped with advanced functions, you are really opened up to a whole new world of photography and video.
HD live streaming
Share your experiences as they happen with the world thanks to the HD Live streaming. Great for moments such as weddings when some family or friends can't make it, you can broadcast the moments to them live so they won't miss out.
Live view
This feature lets you check the exposure and white balance while shooting, but without ruining the moment with the dedicated app for your smartphone. So, if the sun goes behind the clouds or it starts to set while you are filming, you can easily make those vital adjustments, all without getting into shot.
Long exposure
The long exposure feature is great for those low-light situations where you want to bring out the full detail of the stars in the sky. You can alter the shutter speed from 1/6400 of a second to 60 seconds to create an astonishing effect.
High speed Wi-Fi
Transfer your images to your smartphone ultra-quick through the Wi-Fi function so you can check your results, upload and share them almost instantly.
Instant sharing
Share your photos and videos straight from your THETA S to social media through the built in Wi-Fi and let others share the moment with you.
Easy viewing
Take a look back at your photos and videos on your PC or smartphone and you'll have the ability to scroll around and see every moment from every angle, even while your video is playing.
HIGH-QUALITY BODY DESIGN
The THETA S has an elegant and slim but also practical design. The rounded shape makes it the perfect shape to sit comfortably in the palm of your hand. With a cleverly placed tripod mount hole on the bottom of the device, you can easily set it up to capture everything without ruining the moment for you.
Its stylish look means it won't look out of place while you are holding it or have it mounted on a tripod or monopod. The LED lighting clearly tells you all the information you need to know, such as whether Wi-Fi is enabled or the mode the camera is in, all without having to have an ugly screen.
The simple controls are placed in easy reach too so you can easily and quickly set up your THETA S without any fiddling.
THE TECH SPEC
The THETA S lets you record up to 25 minutes in a continuous Full HD video. Its 8GB memory will hold up to 65 minutes of large video files, or 175 minutes of medium files. You can store up to 9000 medium size still image files, or 1600 large files so you are sure to have enough space to capture those special moments.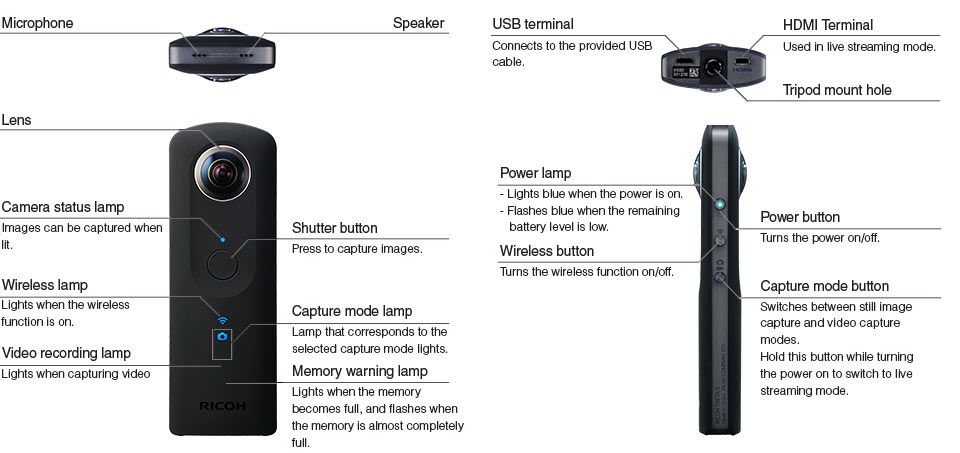 Key Features
360° camera
Full HD recording
8GB of memory
Video and still imaging modes
Live streaming
Wi-Fi enabled
Connections
1 x Micro USB 2.0
1 x HDMI-Micro