Product Information
NEW Norton 360. Standard.
Powerful, secure protection for your devices and online privacy - all in a single solution.
Your PC, Mac, tablet, or smartphone will receive protection against viruses, ransomware, phishing, and other online threats as you bank, shop and browse online.
Your personal information, when transmitted through your device, has protection both at home and on-the-go with bank-grade encryption with our Secure VPN. It helps block cybercriminals from accessing your personal information when connecting to Wi-Fi, even public Wi-Fi.
Norton 360 also includes PC Cloud Backup3 as a preventive measure against data loss due to hard drive failures, stolen devices, and even ransomware, and Password Manager provides the tools you need to manage your passwords and logins.
Should the unexpected happen, our Virus Protection Promise offers a refund. If your device gets a virus we can't remove, you get your money back.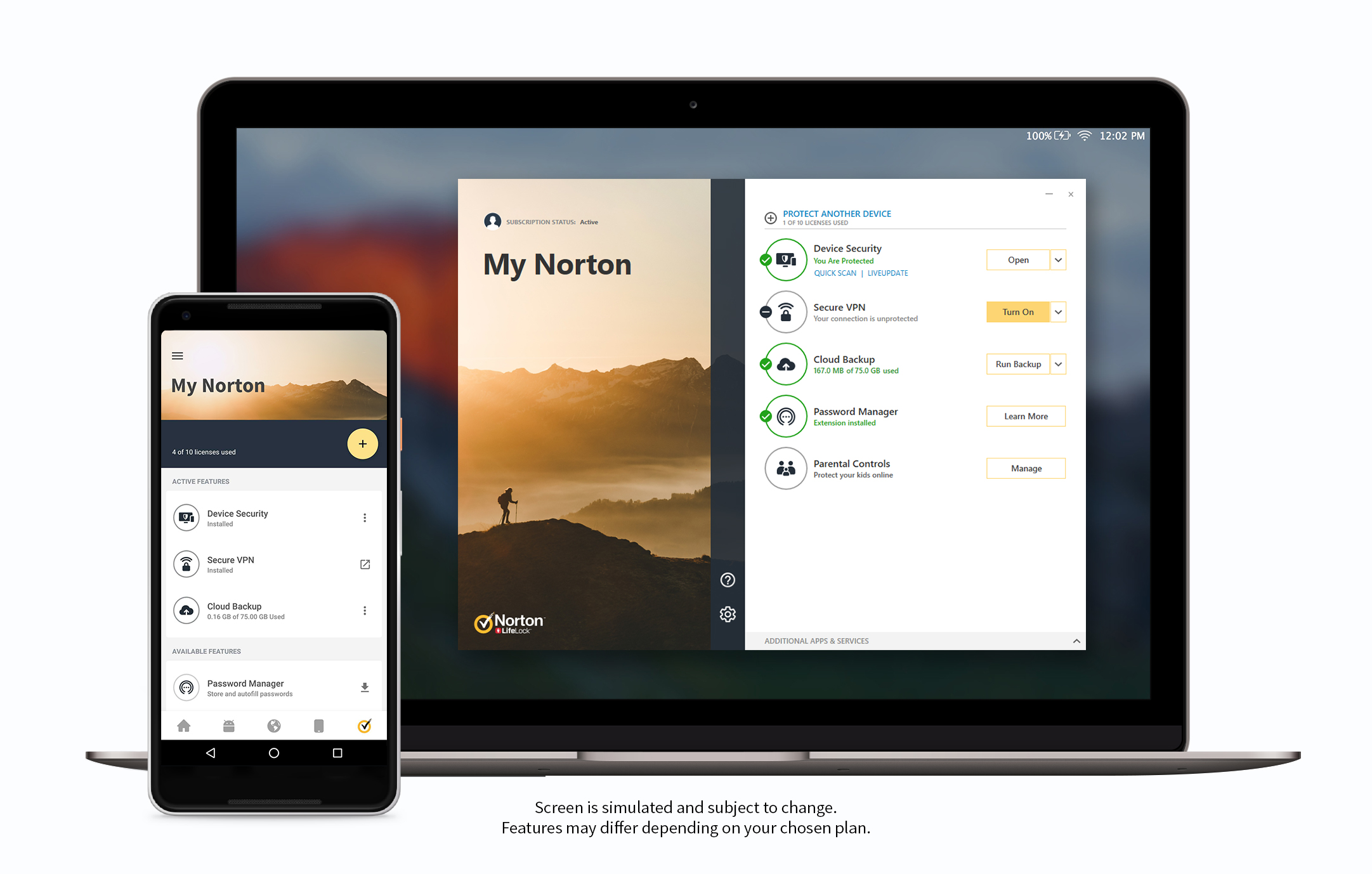 - Device Security: Real-time protection for 1 PC, Mac or mobile device against ransomware, viruses, spyware, phishing and other online threats.
- Secure VPN: Access your favourite apps and websites when connecting to Wi-Fi at home or on-the-go with the reassurance of bank-grade encryption.
- Password Manager: Tools to easily generate, store, and manage your passwords, credit card information and other credentials online – more securely.
- PC Cloud Backup1,3: 10 GB of cloud storage to store important files and documents as a preventive measure against data loss due to hard drive failures, stolen devices and even ransomware.
- SafeCam Instantly alerts you to any attempt to access your webcam and helps you block unauthorised access to it.
- Online Threat Protection: Advanced security helps protect your private and financial information when you go online
- Smart Firewall for PC or Firewall for Mac: Monitors communications between your computer and other computers and helps block unauthorised traffic.
- Virus Protection Promise: From the moment you subscribe, a Norton expert is available to help keep your devices virus-free, or give you a refund.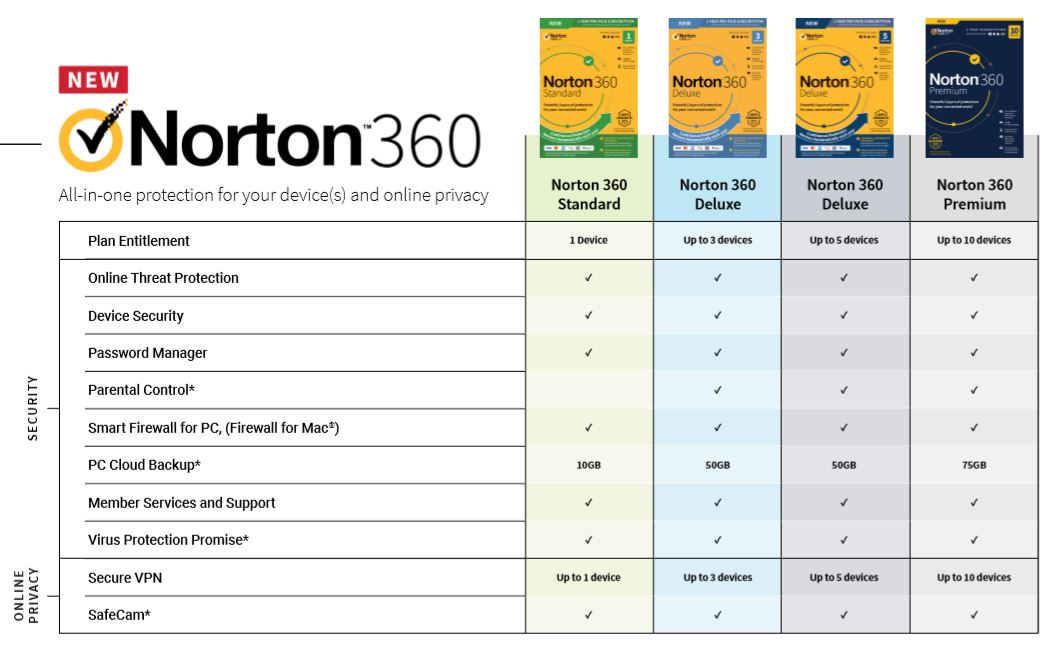 System Requirements
Windows Operating Systems
- Microsoft Windows 10 (all versions), except Windows 10 S.
- Microsoft Windows 8/8.1 (all versions). Some protection features are not available in Windows 8 Start screen browsers.
- Microsoft Windows 7 (all versions) with Service Pack 1 (SP 1) or later.
Mac Operating Systems
- Current and previous two versions of Mac OS.
- Features not supported: Norton Parental Control, Norton Cloud Backup and Norton SafeCam.
Android Operating Systems
- Android 6.0 or later. Must have Google Play app installed.
Auto-scan of apps on Google Play is supported on Android 4.1 or later, except for Samsung devices. Samsung devices running Android 4.2 or later are supported. For earlier versions of Android, the Google Play "Share" function must be used to scan apps on Google Play.
iOS Operating Systems
- iPhones or iPads running the current and previous two versions of Apple iOS