Product Information
A1 Refurbished
A1 are open boxed units which have been returned usually due to being unwanted. The units may have at very worst case have very faint minor /non-permanent blemishes. All units then undergo a full 25-point inspection by our experienced tech team ensuring they are in full working order. Once all relevant checks have been complete the units are then securely repacked ready to be resold. Please note although we can't guarantee that these units are still in their original boxes with all their original accessories we can confirm that on average 85% of our stock is still in its original packaging.
GRADE A1 - As new but box opened
Protect your property
Nifty and affordable, home security cameras have now become a security staple for the home, and the security IP camera from ElectriQ is no exception! The perfect home security solution, be in control of how you keep your family and possessions safe with this small but smart camera. Guaranteed to keep you in the loop with the goings on at home, you'll be able to leave your home with peace of mind.
Plug-and-play
Part of the new generation of DIY security, you can simply plug this little camera in, connect it, and you're off! With no complex set-up or installation needed, you can have your security system set up for as soon as you need it.
Watch wirelessly
As an IP camera, you can connect this wireless watchdog to your computers router, and have instant live footage from your home.
The 2.8mm Lens allows for a wider field of view, so that you can see a good way around the room, especially if placed a little higher angled downwards, such as a bookshelf.
With the free P2PWificam app, available for iPhone, iPad, and Android, you can watch the action going on at your home from anywhere in the world, perfect for when you're on holiday or business trip!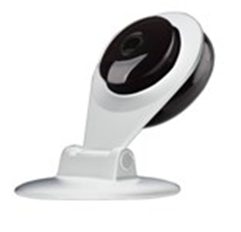 Smart Sensor
With a motion activated sensor, you can set up alerts based on movements in the house. No one can be watching their security camera 24/7, but with the motion sensor alerts, you'll be there to watch if something does happen!
Talk much?
The 2-way mic, allows you to have an active involvement in the goings on in your house, even when you're not there, which is handy for stopping a pet from shredding the sofa, or surprising an intruder.
Cost-effective
Home security used to mean shedding out hundreds of pounds for the camera and installation…but not anymore! For just under £30, this camera can be brought, installed, and used!
Tips for positioning:
Install it in a central location, or a room that everyone has to go through to access other areas of the house, such as the living room.
Place the camera where it's hard to reach so a pet or intruder can't knock it off or reach it.
Intruders are more likely to break into the most concealed door to give them more time, so try and cover concealed areas well.
Key Features:
Instant, wireless footage from your home!
Motion sensor to alert you of any movement in your house.
2-way mic to chat to a pet or shock an intruder!
2.8mm lens for a wider view of the room.
Plug and play! No complex wiring or installation needed!