Product Information

Make every drive safer, cover yourself against false accusations and insurance claims and even reduce your risk of running a red light with the THINKWARE F770 DASH CAM.
Covering you while you are on the road and while you are parked, the F770 keeps you and your vehicle safe.
Safety Camera Alerts
By providing alerts as you approach or drive through traffic enforcement areas the F770 helps you to be prepared and gives you a subtle nudge to check your speed and to drive more cautiously.

Red Light Camera Alert
Warning you if you are approaching a red light camera, you can check your mirrors and be prepared for if the lights change and you need to stop.
Speed Camera Alert
The F770 warns you if you are approaching a speed camera so you can glance to ensure you haven't strayed above the limit.
Average & Mobile Speed Zones
As with the Speed Camera Alert, this alert provides a gentle reminder when entering an average speed or mobile speed camera zone.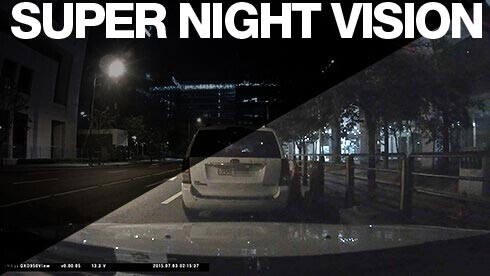 Crystal Clear
There is not a lot the F770 will miss. With 1080p Full HD recording, you can enjoy high quality results whether you are parked at the side of the road or winding down country lanes.
The integrated Sony Exmor Image Sensor allows for constant 1080p resolution recording throughout the day and night. With a wide angle lens view of 140°, you will see much more.
Super Night Vision gives you enhanced video quality from low-light conditions so you are less likely to miss any vital details or events.
Recording Modes

Continuous
Recording begins when you start the car. Videos are saved in one minute segments with an auto-looping mechanism.
Event
An Active Impact Monitoring System automatically stores video data ten seconds before and after a collision registered by the 3-axis G-sensor.
Manual
Activate the camera yourself to capture events that happen in front of your vehicle, whether you are in motion or parked.
Time Lapse
Records at 1fps to reduce the size of the video file. Videos in parking mode can last up to 16 times longer than other dash cams.
Pinpoint
The built in GPS precisely locates your vehicle's location, routes and speed on the map. Assess the status of an accident by providing your speed, direction and severity of the impact. Track and recall older routes, whether they are for work or leisure.
Back Up
If your vehicle is involved in a strong collision, THINKWARE's Dual Save function records the events on the internal memory and also on the MicroSD external memory, ensuring your video is safely guarded.
Value Added Feature:
Safety Camera Alert
Road Safety Warning System
Parking Mode
PC Viewer
Mobile App
Technology & Reliability
Dual Save Technology
Super Capacitor
Wide Viewing Angle
Advanced Video Clear Technology
Secure Mounting
Thermal Protection
Ambarella CPU & Sony CMOS Exmor Sensor
Product Features
Super Night Vision
Time Lapse
1080p Full HD
30FPS
Wi-Fi enabled
Mobile App (IOS & Android compatible)
Safety Camera Alert Road Safety Warning System (LDWS, FCWS)
Built-in GPS
Dual Save
Advanced Clear Technology
Recording Time
Video Quality: capacity-16GB
Full HD 30fps - 124 min
Full HD + Full HD 30FPS 62 mins
Technical Specification
Resolution: Full HD (1920 X 1080P)
Camera: Sony Exmor CMOS 2.19MP
Frame rate: 30fps
Viewing Angle: 140°(Diaganal)
Dimensions: 110 x 60.41 x 31.75mm
Weight: 131 g (0.28lbs)
Storage temperature: -20 - 70°C
Operating temperature: -10 - 60°C
Capacity: Micro SD Card 16GB (UHS-1)
Input Power: DC 12/24V (Max 35V) Built in Super Capacitor
What's In the Box
1 X Dash cam
1 x Mount
1 x Car Charger
1 X Adhesive cable holder
USB MicroSD Card Reader
1 x MicroSD Memory card with adapter (consumable)
1 x Quick start guide and warranty card