Product Information
A2 Refurbished
A2 units may have some cosmetic markings that can still be seen when holding the unit at arm's length, please be assured this will in no way effect the unit's performance. All A2 units have undergone a full 25-point inspection by our experienced tech team, before been securely repacked to ensure you get the best experience upon using your unit. Please note this unit may not come in its original packaging or complete with accessories but we will always ensure the units have their required power supply to allow you to charge this unit. All of the above is reflected in the units sell price.

One of the smallest and lightest notebooks with touchscreen! Measuring just 11.6 inches this HP Pavilion TouchSmart notebook is packed full of essentials which are ideal for those on the go.
Dimensions: H8.4 x W43.6 x D26.6 cm
Design
Compact with a sturdy feel and a 7 hour battery life, this Pavilion notebook is suited for life on the go. At just 0.86 inches thick and weighing only 1.4kg it's super easy to carry around.
Display
The 11.6 inch screen delivers ten-point touch alongside 1366 x 768 pixel resolution. The Pavilions touchscreen is a track pad, supporting Windows 8 gestures, enabling you to easily zoom, scroll, rotate and more. The screen has been finished with an anti-glare coating which makes it much easier to view and read text when outside. Although small the display is crystal clear, delivering a great user experience.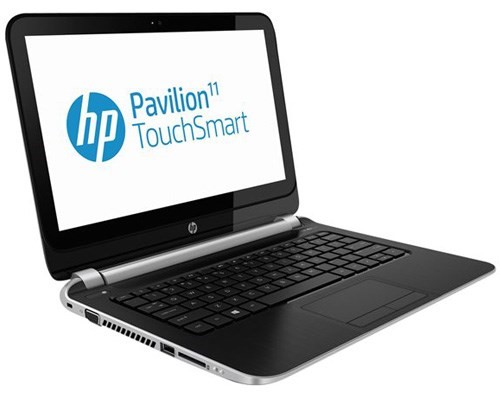 Audio
Housing two built in speakers this little Pavilion produces audio quality not found in other notebooks of its size. HP have equipped this laptop with DTS sound+ for enhanced audio as well as an app complete with digital equalizers and profiles for different sound sources.
Also housing a webcam this small notebook can be used for video calls. HP have included a great app to go alongside the webcam, CyberLink YouCam which has features such as visual effects and optimisations like deeper exposure control.
Ports and storage
Equipped with three USB ports, two of which are faster 3.0 ports you can easily transfer and back up data. With a 500GB's this neat Pavilion is packed with enough storage space for you to save your on the go essentials, favourite playlists and whatever your currently working on, whether it be for school or work.
With a HDMI port the nifty notebook can be outputted on to a larger screen. Although you won't get your entire film collection stored the Pavilion can manage some of your favourites and as it's so portable why not take it round to a friend's house and enjoy a film together.
Cooling system
The laptop has HP's CoolSense which will automatically adjust the fan when it detects that the laptop is resting on your lap. Making the laptop cooler to the touch and also safer.
Features:
Screen size - 11.6 in
Processor - AMD A4 1250 - 1GHz
RAM - 8 GB
Hard Drive - 500 GB
Operating System - Windows 8 (64-Bit)
Optical Drive - None - Intended to be thin
Warranty - 3 Month Warranty
Touchscreen