Product Information
Loosing connection or can't get connected in certain rooms of the home? Optimize your existing Wi-Fi with the Netgear EX6100 AC750 Dual Band 11 AC Range Extender, boosting your Wi-Fi's reach and strength. Delivering you faster Wi-Fi and connectivity.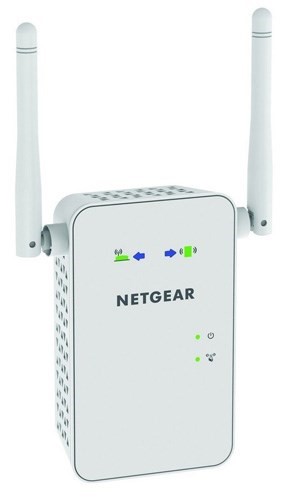 Ideal for devices on the go
Extending your current Wi-Fi range will give you the freedom to move around the home without losing connection as the range extender will help to eliminate dead zones, allowing you to use your smart phones and tablets to their full potential and saving you from eating up all your data allowance.
With FastLane technology you can use both Wi-Fi bands to establish a super speedy connection, this is excellent for HD streaming and gaming.
You could even take your range extender away with you. Ideal for travel the range extender can boost your hotel rooms Wi-Fi or connect you to a wired connection to create your own AC750 Wi-Fi hotspot.
Compatibility
Works with any standard Wi-Fi router to deliver AC750 dual band W-Fi with up to 750mps. Supports new 802.11ac and b/g/n Wi-Fi devices. There's a Gigabit Ethernet port providing Wi-Fi connectivity for a wired device, ideal for a games console, blu-ray player, smart TV or streaming players over your existing Wi-Fi network.
AC and dual band compatible
Compatible with fibre optic broadband speeds and capable of delivering a fast, stable connection, great for HD media streaming and online gaming.
If you have a dual band router the NETGEAR can extend both ranges separately. Accessing both 2.4GHz and 5GHz frequencies which lets you enjoy your entertainment without the bandwidth being affected by other people in the home who may be downloading or browsing.
Installation
Plug in to any power outlet and experience the difference! The neat design of the range extender means you can discreetly place it in any room of the home. With smart LED indicators you can easily find the optimum location for the range extender to get the best coverage. There's no additional set up or time consuming installation and with Push 'N' Connect using Wi-Fi protected set up you can get a quick and secure connection.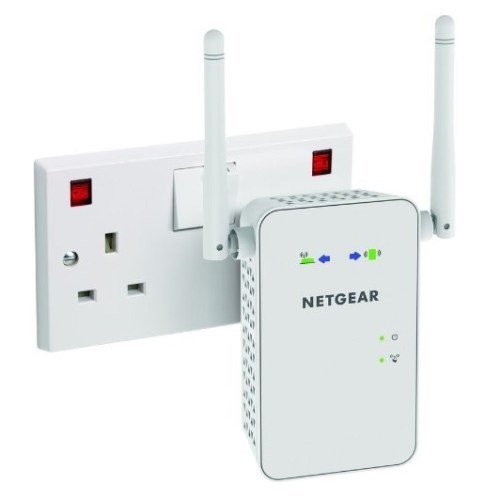 Features:
Extends your current Wi-Fi reach
Improves connection stability
External antennas for better performance
Extends up to 100 ft
Helps eliminate dead zones
Ideal for travel
Easy set up
Compatible with fibre optic broadband
Dual band Wi-Fi up to 750Mbps
Supports new 802.11ac and b/g/n Wi-Fi devices
Connect wired devices to your Wi-Fi network with Gigabit Ethernet