Product Information
Microsoft Office 2016 Home & Student For 1 PC ESD (Electronic Software Download)

What's new with Office 2016?
All the new Office 2016 applications
Office 2016 comes fully loaded with the latest and greatest versions of your favorite applications: Word, Excel, PowerPoint & OneNote. All the tools you know and love, only better.
Tools to boost productivity
You don't need to be a power-user to harness the power of Office 2016. The applications are packed with smart tools that make maximizing productivity a breeze.
Made for teamwork
Built-in collaboration tools enable you to co-author, share and edit documents with ease in Word, PowerPoint or OneNote. Work on the same doc simultaneously whether you're in the same room or across the globe.
The basic necessities for work and school.
Get the all-new 2016 applications for your PC.
Office 2016 enables you to create and collaborate with greater productivity than ever.
Full, installed Office 2016 versions of Word, Excel, PowerPoint and OneNote
For 1 Windows 7 or later PC, home use
Store files in the cloud with OneDrive
Create great-looking documents, spreadsheets, and presentations
From home projects to homework, Office helps your family make the most of every opportunity, every day. Communicate and share with family, friends, and colleagues. Access your files whenever you need them, using any computer with a web browser.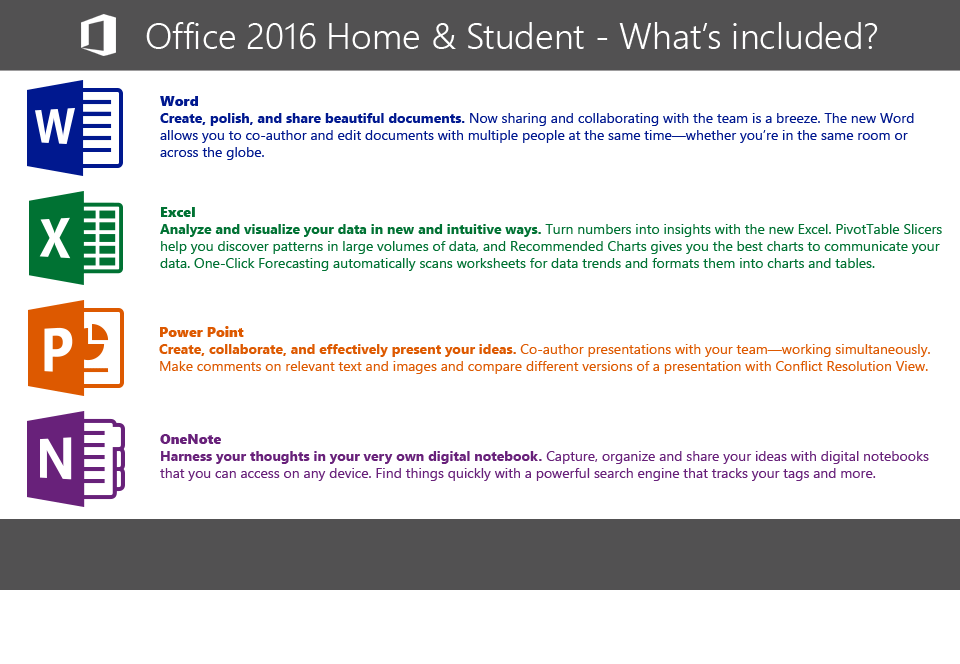 Full, installed Office 2016 versions of Word, Excel, PowerPoint and OneNote
For 1 Windows 7 or later PC, home use
Store files in the cloud with OneDrive
Include Office 2016 apps for your PC