Product Information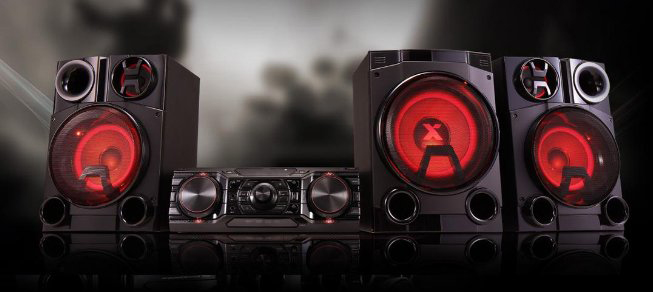 ENHANCE YOUR MUSIC
The LG LOUDR CM8460 750W Hi Fi System is packed full of party enhancing features. Equipped with two speakers and two subwoofers you receive powerful, high quality sound. There are several pre-set modes to explore, enabling you to find the best settings to enrich your music.
Create playlists and invite others to contribute, capture and share your party all via your phone. Delve into the role of DJ, add special effects and scratching to tracks. Utilise Auto DJ and enjoy the party for yourself or take a turn on karaoke. Turn almost any track into a karaoke track by removing the vocals at the push of a button. The fun doesn't stop there, connect your compatible LG TV to the system wirelessly for enhanced viewing.

KARAOKE STAR
Be king or queen of karaoke as you can make almost any track perfect for karaoke by removing vocals and adjusting the songs key to match your own.
MULTI JUKEBOX
Create, manage and add to a playlist via Bluetooth. With the ability to connect up to 3 devices your friends and party guests can contribute to the set.
REMOTE CONTROL
Hit the dance floor yourself and take control remotely with the LG Bluetooth app. Pick tracks and add effects whilst you're partying.

SAMPLER CREATOR
Capture sounds your fans and guests will love and work them into the party.
DJ EFFECTS
Customise your tracks and add your own special touch with DJ effects. Add scratching, flanger phaser, wah, delay and pre-recorded special effects.
AUTO DJ
Let the system take over with Auto DJ, letting you slink away to enjoy your own party.

WIRELESS PARTY LINK
Amplify the party with double the fun. Connect two Hi Fi systems together wirelessly and experience twice the power from twice the speakers.
TV SOUND SYNC
Enhance your TV viewing and connect your compatible LG TV up with the Hi Fi system. With wireless connection there's no limitations as to where you place the speakers.
AUTO MUSIC PLAY
This smart music system knows when you've entered the room. Sensing your mobile devices the system is ready to receive audio directly from your device. The system sleeps but as soon as you send music via Bluetooth it instantly comes to life.

DUAL USB
Dual USB allows for Un-ending music and recording capabilities.
DJ SHARING
Capture and share your party. Record audio and send via Bluetooth to a smart device.
Features:
High power mini Hi-Fi system
2750 Watts of audio power
Built-in amplifier produces powerful audio
50 Pre-programmed FM radio stations
CD playback, MP3 and WMA
Alarm clock & LED lights
Bluetooth enabled for wireless connectivity
Spec:
Power output: 2750W
Subwoofer: Base Reflex (10")
Number of speaker drivers: x1 subwoofer, x2 woofer, x2 mid, x2 tweeter
Driver type: Dynamic
IR/DA Amplifier
Pre-set sound modes: 23EA
Wireless sound connection: LG sound sync
Wireless sound compatibility: LG TV only
Equaliser
What's in the box?
Hi-Fi system
Remote
Batteries
FM Antenna
Simple manual
Warranty card
Dimensions:
Main: W45 x H16 x D35.5 cm
Sub speaker: W32.5 x H45.4 x D30.2 cm
Front speaker: W32.1 x H45.4 x D30.1 cm