Product Information

500GB
HARD DRIVE
QUAD
CORE
4GB
RAM
WINDOWS 7
PROFESSIONAL
DVD
REWRITER
SMALL IN SIZE. BIG IN STATURE.
The Lenovo E73 is the perfect choice for home or the office. With a superior quad core processor this desktop is speedy and efficient at running multiple programmes and applications at once, sure to boost your productivity.
Power and speed
This tidy E73 Think centre has an Intel Core i5-4460 Quad Core processor, making this desktop an excellent multitasker with the ability to manage multiple programmes and applications at once and cater to all your requests quickly and efficiently.
This ThinkCentre is packed with 4GB of RAM which is more than the average user requires and with a cache memory of 6MB you're ensured a smooth user experience. If you do push the limits of your RAM allowance and things start to slow you can install more RAM into your E73 as there are two DIMM slots available.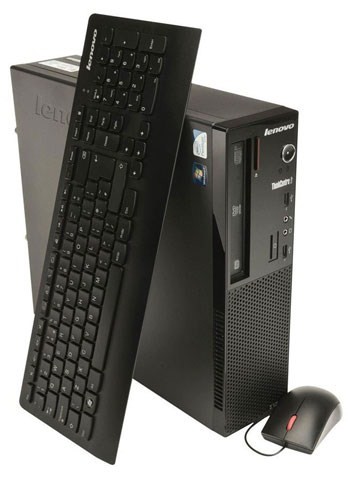 Memory
This E73 ThinkCentre offers you a hard drive capacity of 500GB. This is plenty of storage for day to day use and to hold some of your favourite playlists and photos. When storage starts to become low and you don't want to part with anything why not take advantage of some of the many external storage options this E73 has available.
With a DVD-RW you can play CD's and DVD as well as burn your own. This is a great way to back up essential data you will want to keep or a perfect way to save treasured memories.
An integrated card reader is also available on this desktop which gives you a quick and simple way of transferring data from your portable devices such as your camera or phone.
Altogether this desktop has six USB ports, excellent for plugging in all your essentials as well as the included keyboard and mouse. With 2 of the ports being 3.0 ports they are ten times faster than your average 2.0 ports. Transfer, back up and store effortlessly.
WiFi and Bluetooth technology enables you to connect to the internet but also to desired accessories such as the printer or external video and sound devices. Utilise your tools to take full advantage of this E73 desktop.
Your experience
With a powerful processor and a quad core your experience will be fast and efficient. Operating on Windows 7 professional this desktop is friendly and welcoming, with all your familiar programmes and applications waiting to assist you with all your business needs.
Integrated graphics display your projects beautifully. This desktop may not be suited to intense gaming but it's definitely ready and waiting to help you on your way with all your office needs, whether they are at home or in the office.
Don't worry about leaving your system unattended, with USB disablement you will know that no unwanted data transfers will be happening in your absence. Safe guard your system with password protection and secure your mouse and keyboard.

Features:
Form Factor - Small Form Factor (SFF)
Processor - Intel Core i5 4460S - 2.9 GHz
RAM - 4 GB
Hard Drive - 500 GB
Optical Drive - DVD-RW
Operating System - Windows 7/8.1 Professional
Warranty - 1 year warranty