Product Information
A1 Refurbished
A1 are open boxed units which have been returned usually due to being unwanted. The units may have at very worst case have very faint minor /non-permanent blemishes. All units then undergo a full 25-point inspection by our experienced tech team ensuring they are in full working order. Once all relevant checks have been complete the units are then securely repacked ready to be resold. Please note although we can't guarantee that these units are still in their original boxes with all their original accessories we can confirm that on average 85% of our stock is still in its original packaging.
GRADE A1 - As new but box opened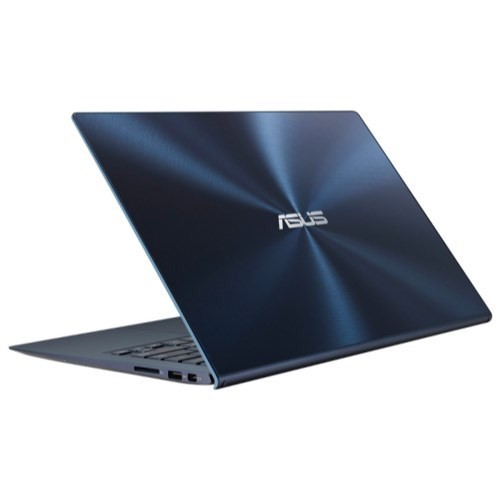 Design
ASUS are pros at designing laptops that are cutting-edge in style and comfy to use, resulting in a very tangible and pleasurable device.
This particular creation from ASUS is from the start, a mesmerising and stunning piece of design. Slender and smooth, the ASUS ZenBook displays a genuine synchronicity between its different parts, with the lid wrapping itself round the back edge and a soft-to-press keyboard.
Crystalline glass with a spellbinding spun circle metallic pattern, finishes this ZenBook perfectly, to give a laptop that is attractive both in design and performance.
Touchscreen
Technology with a human touch, This ASUS ZenBook is extremely responsive and fun to interact with whether you use the receptive touchscreen or the large trackpad.
Windows 8 handles both the touchscreen and trackpad beautifully, with quick and quirky transitions between apps and an extremely user-friendly tiled layout that makes it easier for fingers to interact with.
With a quad core Intel processor powering away in the background, all your swiping, tapping, and clicking will feel completely effortless and immediate!
Screen
The 13.3. Inch screen on this ASUS ZenBook holds its own against the touch element, with an incredible full HD display that revitalises your images into something truly spectacular!
With even the Windows 8 weather app brought to life with crystal clear raindrops and sunshine rays, imagine what it would do to your own pictures, videos, and media – sharing and seeing experiences with other people whether via media or the webcam will feel closer and more realistic than ever!
Performance
Extremely high-performing, this ASUS ZenBook is perfect for multitasking with programmes, files, and media on a high level!
With a powerful i7 Intel core and a generous 8GB of memory, this ZenBook will make light work of the most demanding tasks, remaining exceptionally swift and responsive, even with several tasks open– perfect for long nights in the library or working on the go!
The USB 3.0 ports support the latest high-speed storage and recharge mobile devices in double-quick time making this a very powerful machine!
Even with power constantly flowing through the veins of the ZenBook you won't have to worry about the battery draining or the laptop overheating! The Super Hybrid Engine II technology, boosts battery life and standby time to stretch out the time between recharges, and the thermal management will ensure it never loses its cool!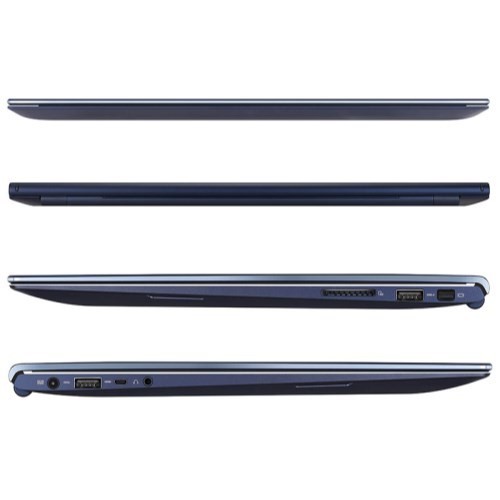 Sound
With unique sonic master technology from ASUS, you'll hear sound like you've never heard it before! The high quality audio hardware and professional grade audio software ensures the highest attainable sound quality – one listen of the rich bass and treble, you won't want any other audio!
Storage
Coming with a 256GB solid-slate hard drive, programmes will launch in double quick time, allowing your movies, music, media, and programmes to be accessed and used smoothly and effortlessly anywhere you go!