Product Information

UNCOMPROMISING PERSONAL COMPUTING
More capable, versatile and portable than anything that's come before. Incredible power that leaps past portable PC's at your fingertips. The iPad Pro is an uncompromising vision of personal computing. Touch, swipe or write, whether its work or play iPad Pro makes tasks smooth and natural.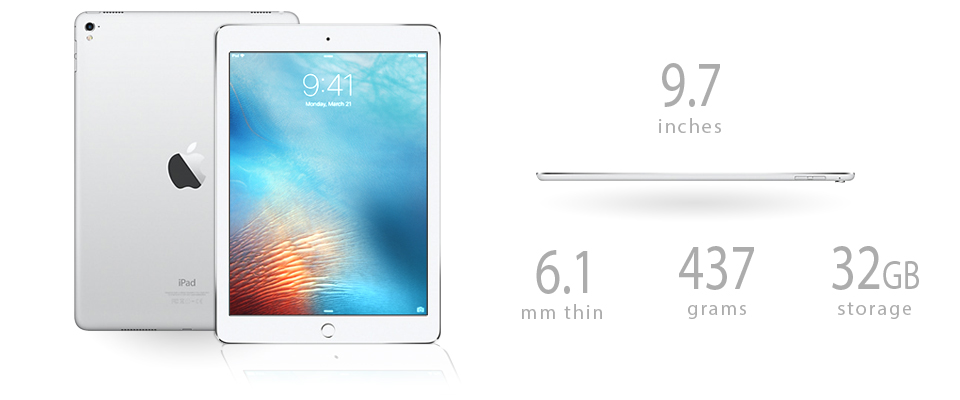 DISPLAY IS KEY
The 9.7-inch iPad Pro features Apples most advanced display. The brightest and least reflective in the world. Delivering impressive detail with a 2048x1536 screen resolution. Using the same colour space as the digital cinema industry, colours are more vivid, engaging and true to life. Showcasing up to a 25% greater colour saturation than its predecessors, thanks to a wider colour gamut.
With true tone technology the iPad Pro naturally adapts its colour and intensity to suit your surroundings. Perfect portability.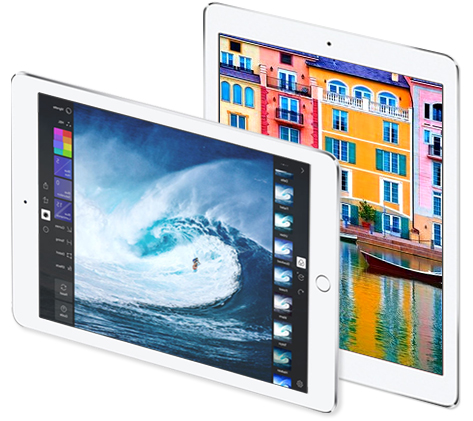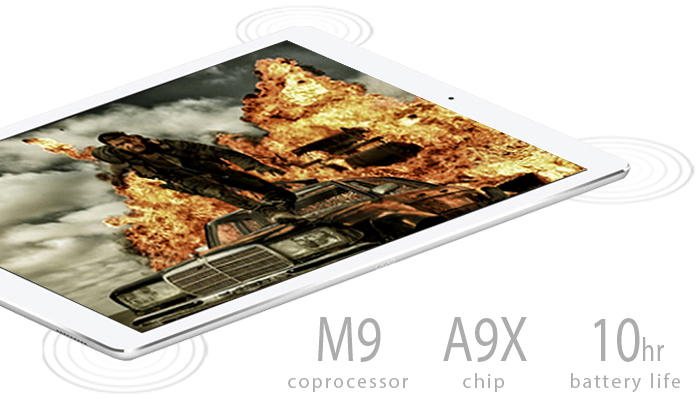 ADVANCED SOUND
The iPad Pro creates a rich, wide and detailed soundstage, fitted with high-fidelity speakers in each corner. No matter how you hold the iPad Pro it will automatically adjust the orientation of the high frequencies to the topmost speakers. Sound that completely immerses you.
BARRIER-BREAKING PERFORMANCE
Complete all your tasks on one device, work or play. The iPad Pro has the power to easily take on tasks once reserved for workstations and PC's, with its 64-bit A9X chip and M9 coprocessor.

QUICKER WORK
More responsive than ever, the iPad Pro has 1.8 times the CPU performance of the iPad Air 2. Smooth, unparalleled performance. Complex tasks happen immediately, even projects like editing 4K video.

BETTER PLAY
iPad Pro has double the graphics performance of its predecessor the iPad Air. Rendering incredibly detailed visuals, fluid animations and effects so real you'll lose yourself in your favourite apps and games.
NEW TECHNOLOGY
Portable Keyboard
By combining new technology and materials Apple have created a portable, super thin and light weight keyboard which also doubles as a durable cover. With no fuss the iPad Pro simply connects to the keyboard via the smart connector, eliminating pairing, leads and plugs.
Pencil
Incredibly responsive from the moment you pick it up. Sensitive to tilt and pressure you are able to smoothly create a range of artistic effects. With pixel-perfection precision Apple pencil opens up new creative possibilities.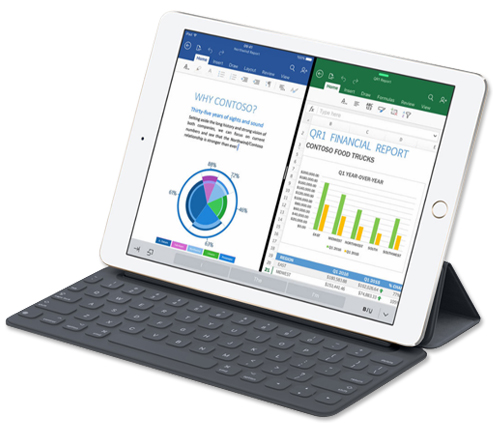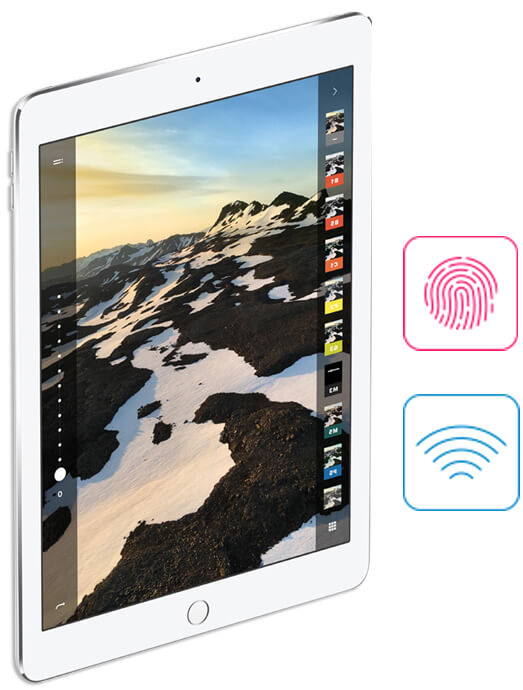 CRYSTAL CLEAR DETAIL
With remarkable cameras front and back the iPad Pro captures detail like no other. With a 12MP iSight rear camera you can take beautiful photos and capture 4K video, 240-fps slo-mo videos and live photos. Over on the other side the front-facing 5MP HD camera features retina flash with True Tone for stunning selfies.
YOU ARE THE PASSWORD
Using Touch ID technology your fingerprint is an unforgettable password for the iPad Pro. Secure your iTunes, iBooks and app store purchases.
FAST CONNECTIVITY
iPad Pro can connect to the fastest Wi-Fi networks, making surfing the web, streaming and sharing a breeze.
WHAT'S IN THE BOX?
32GB Silver 9.7-inch iPad Pro
Lightning to USB cable
USB Power adapter
Features:
Screen - 9.7"
Colour - Silver
Resolution - 2048 x 1536
Operating System - Apple iOS 9
Processor - A9X
Battery Life - 10 hours
Wi-Fi
Warranty - 1 year warranty
Dimensions: 240 x 169.5 x 6.1 mm