Product Information
Work smarter with the professional tools and features that come with Microsoft Office Professional 2013.
With 15GB Online storage with OneDrive, an improved user interface optimized for a keyboard, pen, or touchscreen, and free office web apps, you can work from anywhere at any time and achieve first-rate work, with all the benefits of Microsoft's professional versions of their renowned office tools wherever you are!
What's Included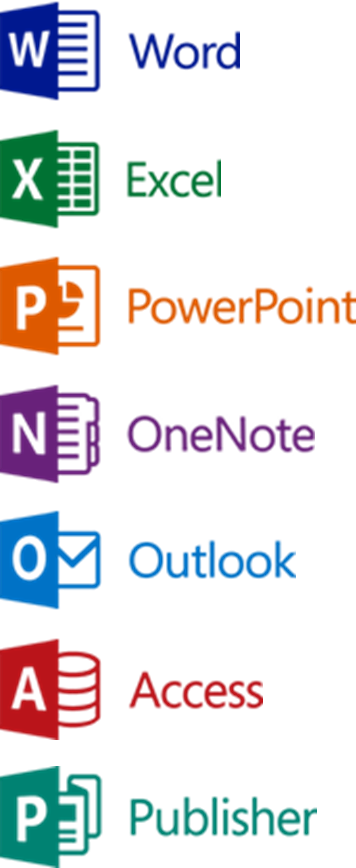 What's new: Sophisticated and a classic, Microsoft Word has new a sleek design for viewing documents and editing photos within it. Reply to comments on your documents and share them with users who don't have Word, keeping up correspondence going between you and colleagues anywhere.
What's new: : Speeding up your work ethic, Microsoft Office Professional's Excel comes with recommended Charts helps you visualize data quickly. With "Flash fill" that will fill out formulas and charts for you, producing last minute data won't slow down the working day.
What's new: Engage co-workers with captivating presentations. Widescreen themes prepares your presentation to look good on any screen, zooming into diagrams, photos, and charts. The smart-guides line up pictures with effortless precision, giving your presentation a professional edge. .
What's new:From notes to business projects, OneNote helps turn notes, ideas, and research into something serious. Great for working on bigger projects, gather everything together and sort your ideas out: great for professional performance, productivity, and making a fantastic impression!.
What's new: With professional-oriented settings such as automatic email updates from Linked in and Facebook, Microsoft Office Professional 2013 mail helps you network and connect. See your Outlook schedule, appointments, and contact details without changing screens, making your work day organised and accessible.
What's new:Gathering information and creating reports has never been easier than with Microsoft Access. Easier to navigate, Microsoft Office Professional 2013 version helps you build a database fast with inspirational templates and online accessibility for a more productive and time-effective approach to the working day.
What's new: Make your own dynamic marketing materials using the easy tools in Publisher. With the emphasis placed on page layout and design, you can create some truly premium quality professional documents, with the added bonus of viewing formatting changes before going through with them.
N.B:This electronic download of Microsoft Office Professional 2013 32-bit/64-bit is a one-time purchase for the life of your PC and is therefore non-transferrable to another computer.
System requirements:
Computer and Processor: 1 GHz or faster x86 or 64-bit processor with SSE2 instruction set
Memory: 1 GB RAM (32-bit); 2 GB RAM (64-bit) recommended for graphics features, Outlook Instant Search, and certain advanced functionality1
Hard Disk: 3.0 GB of available disk space
Display: 1366 x 768 or higher resolution
Operating System: Windows 7, Windows 8, Windows 2008 R2 with .NET 3.5 or greater
Graphics: Graphics hardware acceleration requires DirectX10 graphics card
Additional Requirements: Microsoft Internet Explorer 8, 9, or 10; Mozilla Firefox 10.x or a later version; Apple Safari 5; or Google Chrome 17.x.
Internet functionality requires an Internet connection. Fees may apply.
Certain features require Exchange 2013 or Lync 2013
Speech recognition functionality requires a close-talk microphone and audio output device.
Information Rights Management features require access to a Windows 2003 Server with SP1 or later running Windows Rights Management Services.
Dynamic Calendars require server connectivity.
Microsoft and Skype accounts.
Word, Excel, PowerPoint, OneNote, Outlook, Access, and Publisher for use on 1 PC.
15GB Online storage with OneDrive to access your files anywhere!
Office on one PC, built for high-quality business and professional use.
Improved user interface optimized for a keyboard, pen, or touchscreen.
Free Office Web Apps.1