Product Information
A1 Refurbished
A1 are open boxed units which have been returned usually due to being unwanted. The units may have at very worst case have very faint minor /non-permanent blemishes. All units then undergo a full 25-point inspection by our experienced tech team ensuring they are in full working order. Once all relevant checks have been complete the units are then securely repacked ready to be resold. Please note although we can't guarantee that these units are still in their original boxes with all their original accessories we can confirm that on average 85% of our stock is still in its original packaging.
This is a grade A1 product with no obvious scratches, marks or dents. It will be fully bubble-wrapped for transportation and comes with the full manufacturer's warranty.
GRADE A1 - As new but box opened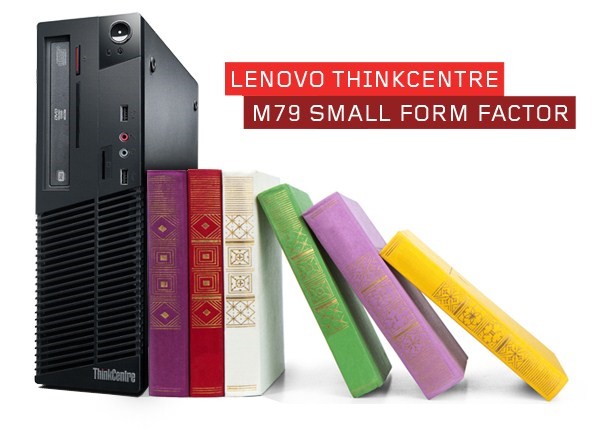 Built For Business
Lenovo desktops are renowned for their build quality and reliability, and the ThinkCentre M79 certainly doesn't disappoint. Designed to fit in to tight spaces, the M79 mini PC will go almost anywhere in your home or office, giving you more room for your other belongings.
Built with a powerful AMD A4-6300B processor, this small form factor desktop gives you up to 3.9GHz of clock speed, while 4GB DDR3 RAM (expandable up to 32GB) keeps your multi-tasking glitch free and productive.
Complete with both Windows 7 Professional and Windows 8.1 Pro, the M79 mini PC allows you to work away from the office by connecting remotely to your companies server, it also allows you to backup and restore to local HDD, DVD & network. What's more Encrypting File System (EFS) adds a layer of extra security to your sensitive files and folders and preventing access to these files or folders by unauthorised users.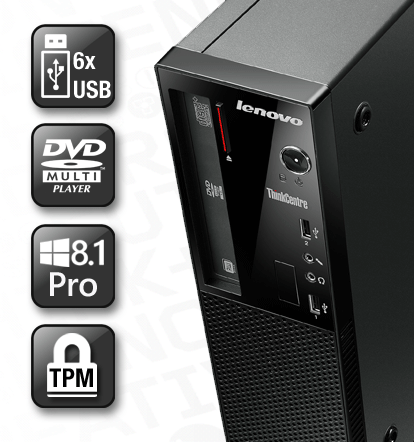 Impressive Functionality
When it comes to useful features, the ThinkCentre M79 has plenty.
A 500GB hard drive running at 7200rpm provides ample storage and faster computing.
An integrated DVD Super-Multi drive is also incorporated, making playing/burning games, music and movies easy.
6 x USB ports are included in the desktop, 2 of which are USB 3.0 ports making downloading and transferring content super-fast.
Trusted Platform Module (TPM) encrypts your data keeping it safe and secure.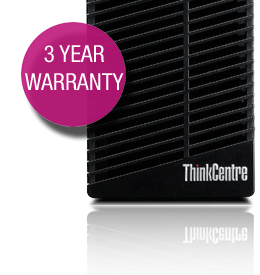 The M79 desktop features 15-month platform stability with no planned hardware changes that affect the preloaded software image. Image stability for long-term deployments helps to reduce transition, qualification, and testing costs to ensure savings for your business.
The Intelligent Cooling Engine on the M79 desktop is designed to provide a balance between thermals and acoustics resulting in a longer desktop life. You can choose the performance mode that best suits your work environment allowing you to work in hotter temperatures preventing the desktop from overheating.
The Lenovo ThinkCentre M79 is an affordable, professional-strength mini tower PC powered by AMD APU's delivering both central processing and graphics horsepower in one processor package. Ideal for both home & business the M79 mini PC delivers on all fronts to keep your work productive.