What's going on in the world of CCTV?
CCTV isn't just watching you, we're watching the world of CCTV and bringing you the latest news from the security sphere!
iViewCameras has recently been featured in the local Huddersfield Examiner for helping out A VOLUNTEER-run boxing club.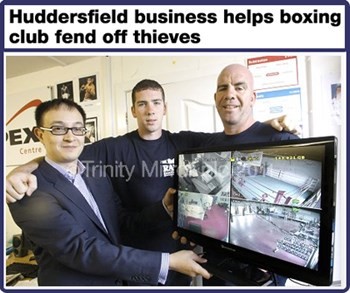 Read the full feature here - The Huddersfield Daily Examiner
Below we've collected a range of articles about CCTV to keep you updated with innovations and show you CCTV in action. Click the links to find out more.
HomeSecurity361.com
HomeSecurity361.com Offers Professional Grade Home Security Systems, Security Cameras, Video Surveillance Systems , Wireless Security Systems, and Digital Video Recorders.
How To Surveillance.com - See CCTV How-To Videos and Articles
Security Camera Systems - Latest Selection of Security Cameras, CCTV DVRs, NVRs & IP Video Surveillance Systems, Same Day UPS Shipping, and Free Lifetime Tech Support. 800-997-8460
WECU Surveillance.com
Professional Security Cameras, Surveillance Equipment and Start to Finish Solutions, preventing crime, removing criminal opportunities by creating Real World solutions for the 21st Century.
Code to Govern CCTV Cameras
Police forces and councils who want to set up CCTV systems will have to be open and clear about what they will be used for and why under Home Office plans.
What is new in the CCTV world?
Closed circuit television (CCTV) is experiencing a leap in technology using digital techniques and the Internet. The new edition of this high-level professional reference includes details of CCD
West Berkshire police
Berkshire Council's move of CCTV monitoring to a much improved digital system is being welcomed by Thames Valley Police ...
New intelligent CCTV Cameras
The cameras can hear as well as see, they will alert the police immediately.....
Cameras keep you safe!
Most of us visit places like airports, subways and shopping malls but fail to recognize a tiny gadget that is hidden in a corner monitoring our activities These gadgets are various types of surveillance equipment, and nowadays they are literally everywhere..

Crime statistics
THE most crime-ridden street in Huddersfield is Cross Church Street in the town centre.
According to the newly launched......
New CCTV Cameras put up
New cameras set up around Ataturk Avenue have been keeping the camera operators busy, keeping track of various happeneing around
Updates from around the world
Councillors from Kingsbridge Town Council in Devon, UK, are expected to vote through approval for a new CCTV system in the town...