Product Information
Easy Security
Cutting edge surveillance kit with built-in recording, monitor your home day or night inside and out and view it all on your smartphone. Instantly feel more secure with the Swann Secure Wi-fi security system. Whether you're keeping an eye on your business, pet watching, monitoring the garage or simply keeping an eye on your home the Swann Secure systems 4 HD cameras deliver you a crystal clear view.
What's included?
x4 720p Wireless IP cameras: Ideal for placing in multiple rooms of the home or for different views of one larger space. With day and night vision, motion triggered recording as well as audio recording you'll never miss a trick.
7" Touch screen: With 7 inches of widescreen format your view will be crystal clear. Easily switch through the four channels, keeping an eye on things in the palm of your hand.
8GB Micro SD: Don't just watch it, record it. Equipped with an 8GB Micro SD you will have a hard copy of your surveillance, perfect if you're away, record and review later.
Built in rechargeable battery: For complete portability.
Network cable (6ft), Mini HDMI cable, Mini USB to USB cable and Theft deterrent stickers.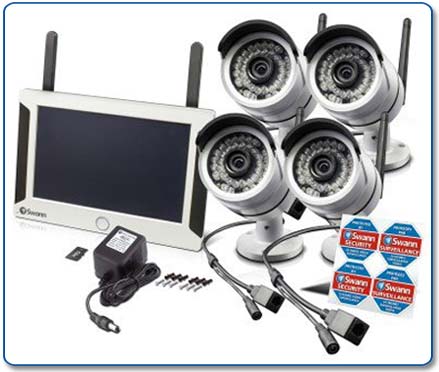 How does it work?
Set up your surveillance all through the handy 7" touch screen tablet. The four cameras can be positioned around your home or within one larger space for a variety of views. The cameras connect to your home Wi-Fi network. The 7" tablet is the hub of the operation and this stays at home. You are able to view remotely using your smartphone or tablet with the SwannView Link app to survey whenever and wherever you are.
Eye spy benefits
Crystal clear imagery day or night, inside and out
The four cameras provide crystal clear 720p HD video, you won't just get a rough idea of what's going on you'll see facial detail, license plates and more. With built in IR cut filter night vision is enhanced, see up to 50ft!
Video recording is motion triggered, recording only the juicy bits, saving storage space on the memory card. Equipped with an 8GB memory card however you are able to buy more cards to expand the memory up to 64GB.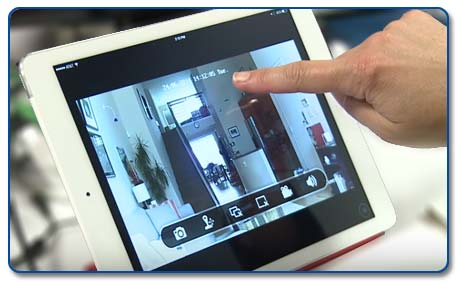 Remote access with a user friendly app
Viewing remotely with your smartphone or tablet via the SwannView Link app you have some ideal functionality. You can choose to take a photo, zoom in or out, change the aperture size and record a specific moment.
Instant, versatile security
Set up surveillance wherever you need it, great for a variety of uses. Survey multiple rooms in your home, pet watch, keep an eye on the baby sitter, view the front door and garage. If you have your own personal business set up surveillance and keep an eye on things from the comfort of your own home. If you go on holiday rest assured you can keep an eye on your home via the app.
Features:
720p HD Resolution on all 4 Channels
8GB SD Card Pre-Installed, Upgradable to 64GB
Mini HDMI output.
1x Weatherproof 720p CCTV Cameras with 15M Night Vision Range
Remote viewing Apps allows you to view Live Footage, with Ultra-Simple Automatic Setu
Wi-Fi Monitor / Recorder
1x Swann 720p HD Outdoor Bullet Cameras
Power Adapters
Network Cable 2M
Mini USB to USB Cable