Security Camera Installation Packages
To help save on time and hassle when it comes to buying and installing a CCTV system, we've created a range of pre-bundled kits that come with everything you need to have you set up in no time at all! Simply order one of our CCTV installation packages listed below and leave it to us to do the rest!
All our CCTV bundles include a professional installation service as standard through our partner company Prime Security Installations Ltd, who bring with them over 20 years' experience in the field of CCTV, so you can be sure that your kit is expertly installed at a time that's convenient to you. Need some more advice? Call our CCTV experts on 0871 244 0934.
What happens next?

1. Order a pre-bundled CCTV installation packages listed below.

2. We'll then contact you to ensure your property is suitable for the installation.

3. Prime Security will then get in touch with you to discuss a convenient date to install your CCTV kit.

4. Sit back and relax while Prime Security set up your kit, test it works correctly and even demonstrate it for you.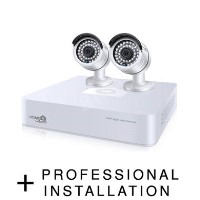 Condition:
Brand new

2 Camera Kits

4 Channel DVR

System Resolution

-

1080p

1TB Hard Drive

Warranty Period

-

1 Year Warranty