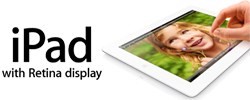 The iPad 4 with Retina Display
The iPad 4 is more than just a tablet, it is breakthrough technology. The iPad 4 encompasses the breakthrough Retina display with over 3 millions pixels in a unibody less than 10mm thin. What makes the iPad 4 even more incredible is the camera, that is able to take pictures as brilliant as the display itself. At less than 670g, the iPad 4 can go with you wherever you go.
Breakthrough Retina display

Everything you do with iPad, you do through iPad's breakthrough Retina display, which makes the entire iPad experience better. Colours are vibrant, text is razor sharp and pictures are crystal clear. The Retina display has more than 3 million pixels - a million more pixels than an HDTV.
Powerful A6X chip

iPad's new A6X chip is iPad's most powerful mobile chip yet. It delivers up to twice the CPA and graphics performance of the previous A5X chip, making iPad feel even more responsive than ever. The graphics make games feel more lifelike than ever before. Improved image signal processing built into the A6X chip make photos and videos even more Retina worthy.
Over 300,000 apps

Apps made for iPad are different to anything else. Each app is designed specifically for iPad and with other 300,000 and counting, there are apps in just about every category.Whether you want to make a commute more entertaining, a presentation more interesting or even make a school lesson more inspiring, you can do it all from your iPad with Retina Display.
Ultra-fast wireless

The iPad with Retina display has advanced Wi-Fi that's up to twice as fast as any previous-generation iPad and access to fast mobile data networks around the world. With dual-band and support for channel bonding, download speeds can reach up to 150 Mbps. The iPad with Retina display makes many of the things you do every day feel a whole lot faster.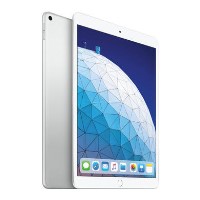 Condition:
Brand new

A12 Bionic

Processor

Mac OS

Operating System

10.5 Inch

Screen size