Product Information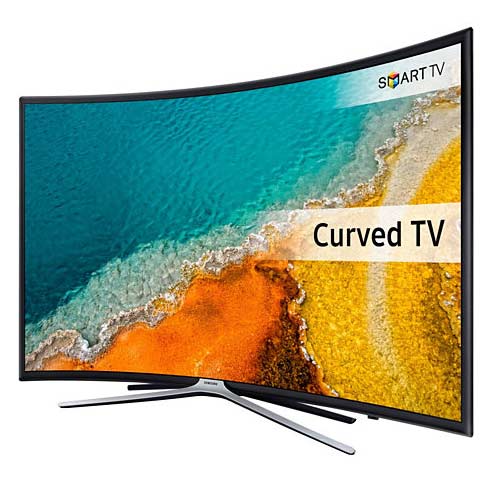 Enjoy amazing Smart TV from Samsung's Smart Hub and much more in incredible Full HD quality with the K6300 TV.
With a 49" curved display you'll be surrounded with high quality, crisp, clear and vibrant content for a truly immersive experience.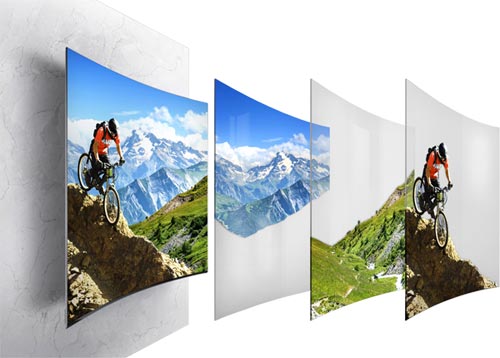 BEAUTFUL PRECISION
We all look for a high quality picture when shopping for TVs. This Samsung combines a number of new technologies so you'll experience an amazing standard of TV pidcture quality.
Wide Colour Enhancer, Digital Clean View and Auto Depth Enhancer work together to develop a high quality image. They uncover hidden details, reduce irritating noise and add extra layers of contrast so you'll see more than ever before with the K6300.
Thanks to the incredible picture quality, you'll experience movies, TV shows and more just how the director intended.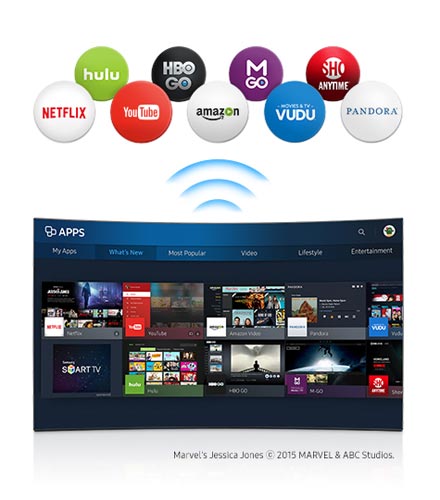 SMARTER TV
You don't need an array of other devices such as set-top boxes and games consoles to access extra entertainment content or games anymore. Samsung have developed this TV to feature everything you need in one place, with one remote control and without that awful tangle of wires.
Samsung's Smart Hub gives you access to thousands of TV programmes, movies and music through services such as Netflix, Amazon Instant Video and a huge range of catch up services. You can even flick through the Smart Hub menu and choose what to watch next without interrupting whatever you are already watching.
Cloud gaming gives you access to an array of top-title games, in just the same way, allowing you to play more quickly and conveniently straight through your TV.
It's completely wireless too so you can connect to all of these services via Wi-Fi without the worry of wires trailing around your room.

FULL IMMERSION
The curve of the K6300 is tailored to the size of the screen so you'll be immersed in everything you watch.
The design means the corners of the screen are brought closer to you to produce an effect of being wrapped in or surrounded by the display and therefore bringing you closer to the action.
This is a far more natural and comfortbale way of watching TV to what you may be used to.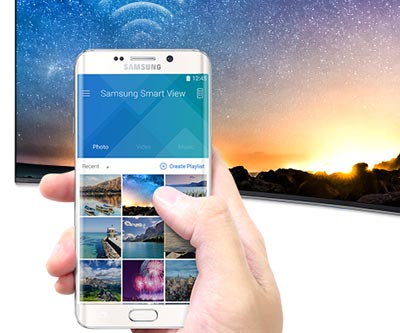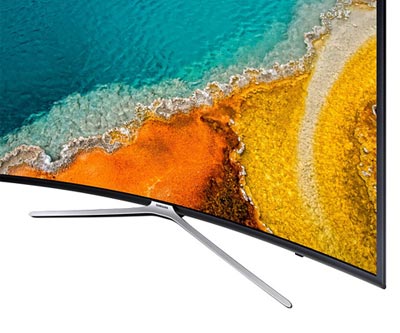 SIMPLE SHARING
You can easily share your music, pictures and movies to you Samsung TV through ConnectShare. Just plug your USB or HDD into your TV and enjoy your content in fantastic Full HD quality.
It will let you share content from your smartphone, or even continue to watch Netflix or Amazon Instant Video content by using Samsung's dedicated Smart View app, all with a single push of a button.
MODERN DESIGN
It's not only the display on screen that looks great, the design of the whole TV lives up to the same qualities. With a curved screen and minimalist bevel, this TV takes an understated appearance, but bursts into life when turned on.
The fish-tail style stand gives the TV a unique appearance that will suit most styles and tastes.
Key Features
Full HD Smart TV
Curved Screen
Freeview HD Built-in
USB Playback
Wi-Fi built-in
1 Year Warranty
Energy Efficiency Class - A
Connections
3 x HDMI
2 x USB
1 x Digital Audio Out
1 x LAN
Dimensions
W x H x D: 1102.3 x 712.2 x 293mm (with stand)
W x H x D: 1102.3 x 646.4 x 104.4mm (w/o stand)
Weight: 13.9Kg (with stand)
Weight: 12.2Kg (w/o stand)