Product Information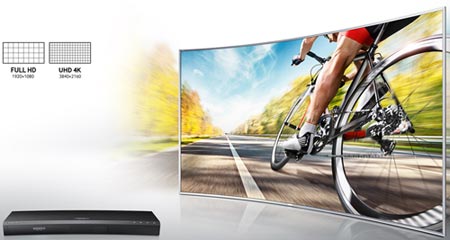 Transport yourself to the set of the latest release or box set with the Samsung UBD-K8500 Ultra HD Blu-Ray player.
If you think your Ultra HD TV isn't fulfilling its potential, then this Blu-Ray player is a must to add to your home cinema system.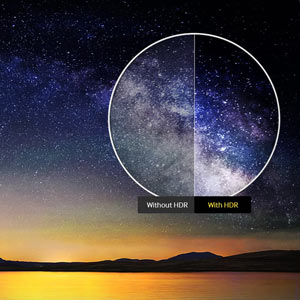 Astonishing Detail
The detail you experience is beautifully crisp and crystal clear - you'll see the movie just as the director intended and you won't be disappointed.
Ultra HD resolution means your picture is 4 times better quality than Full HD. The colours are incredibly deep so you get the darkest blacks and the brightest whites. The latest HDR technology gives you accurate colours making your viewing experience the most natural yet. You'll feel like you're looking through a window onto the set.
And it doesn't stop there - you can even stream content over Wi-Fi from services such as YouTube, Netflix and Amazon Prime, all of which now support Ultra HD content.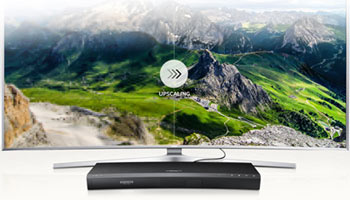 Brilliantly Compatible
Are you put off buying a UHD Blu-Ray player by the thought of having to buy your movies again in the right format? There's no need to worry.
Another amazing feature on this player is that it allows you to enjoy much more than just UHD Blu-Ray discs. There really are no limitations. You can play CDs. DVDs and Blu-Rays and this player will even upscale the content into amazing Ultra HD quality.
This range of compatible formats is Samsung's greatest coverage yet and one you won't find on another player.
You can even play different songs in different rooms to keep everyone happy!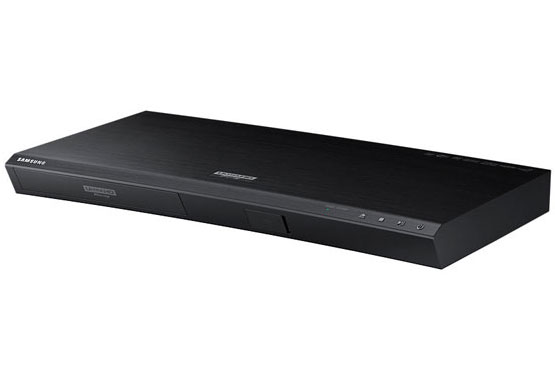 Unobtrusive Design
Design is just as important as the quality for many people when it comes to buying TVs and other home cinema devices as most have their whole system on show in their living rooms. So, how does this Blu-Ray player look?
Its curved design means it matches the curve of a curved Samsung TV or soundbar so your home cinema system will have a neat, streamlined look with nothing looking awkwardly out of place.
With a black brushed effect, and with no ugly LCD screen, the player discretely blends into your living room.
If you are looking for a way to unleash the full potential of your Ultra HD TV and unlock amazing quality content, then this Blu-Ray player is the ideal solution for you.
Blu-Ray disc player
Black
Smart - Internet TV: Y
Audio System / Sound Output Mode: Stereo
Availability: Next Day Delivery
DVD / 3D Technology: Yes