Product Information
A2 Refurbished
A2 units may have some cosmetic markings that can still be seen when holding the unit at arm's length, please be assured this will in no way effect the unit's performance. All A2 units have undergone a full 25-point inspection by our experienced tech team, before been securely repacked to ensure you get the best experience upon using your unit. Please note this unit may not come in its original packaging or complete with accessories but we will always ensure the units have their required power supply to allow you to charge this unit. All of the above is reflected in the units sell price.
This is a refurbished Grade A1 Product – A1 items are typically box opened product as new fully tested and restored.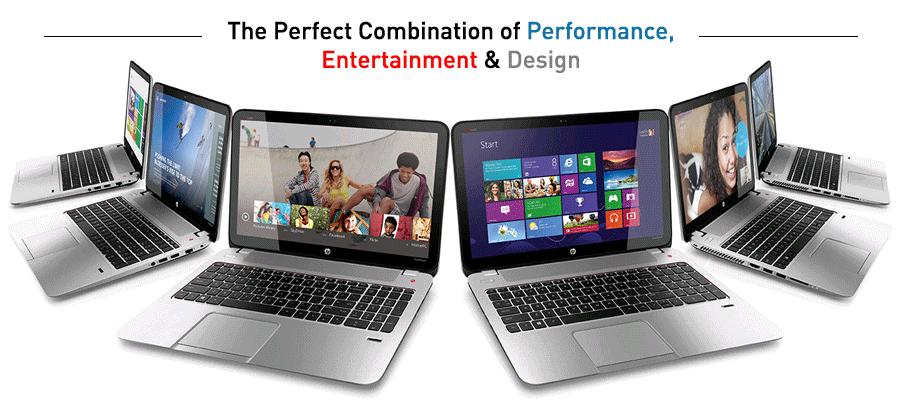 The Perfect Combination of PERFORMANCE, ENTERTAINMENT & DESIGN
Take your computing to another level with the HP ENVY TouchSmart 15. Packed with some serious power, this super-sleek laptop combines Intel Core muscle, stunning good lucks, awesome sound and front-line features, plus an intuitive touchscreen!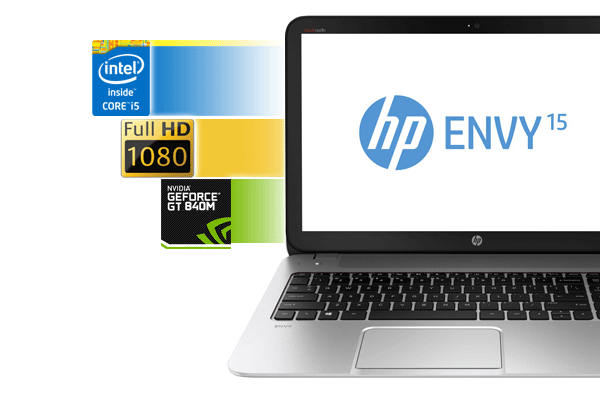 PERFORMANCE
Packed full of features, the HP ENVY TouchSmart 15 is a premium laptop with great specs giving brilliant performance. A Full HD 15.6 inch touchscreen, 4 speakers, 2 subwoofers, 4th Gen Intel Core i5 processing and dedicated NVIDIA graphics are just some of the features that will help you get the most out of this awesome laptop. And it doesn't compromise on looks either, the sleek design is eye catching and compact for the amount of raw power contained inside.
NVIDIA Graphics
An NVIDIA GeForce GT 840M with 2GB of dedicated memory will ensure graphics run smoothly and with incredible detail. Whether you're editing images or playing the latest games, the GT 840M will ensure great visuals with low power consumption.
4th Gen Intel Processing
With a fourth generation Intel Core i5 processor and a vast 4GB of RAM the Envy TouchSmart 15 is ready to do whatever you'll need it to, and will even boost it's performance to help handle more demanding tasks.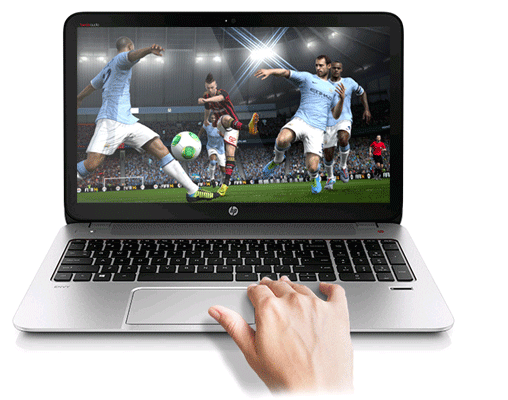 ENTERTAINMENT
The ENVY 15 laptop from HP was created to entertain & delight - and it does just that. Check out some of these awesome features that spice up your multi-media life:
Hear the difference with 4 Beats Audio Stereo Speakers and 2 subwoofers - HP's most advanced audio ever!
Immerse yourself in realistic games with a powerful 2GB NVIDIA GeForce graphics chip.
The 15.6 inch Full-HD touchscreen brings Windows 8.1 to life allowing you to swipe your way through your favourite movies and web pages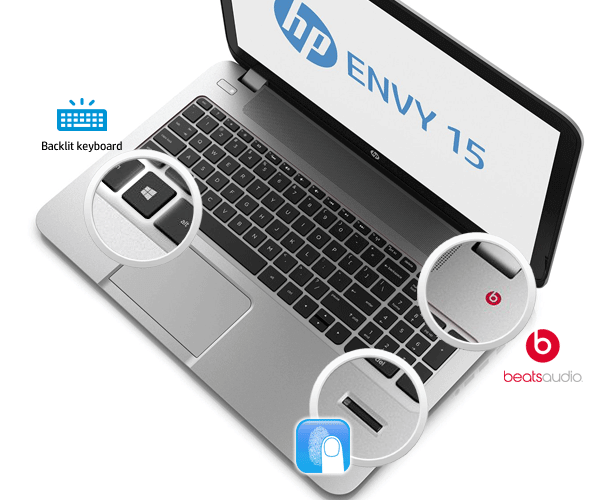 DESIGN
When it comes to the deign of the ENVY TouchSmart 15, HP have really pulled one out of the bag. Crafted with true care, this fine-tuned laptop oozes elegance and style with a modern silver finish, giving it a silky, soft-touch which makes it a joy to hold.
To help keep you comfortable while using it, HP CoolSense is also incorporated, this combines hardware, software & mechanical design to dynamically manage the temperature of the laptop
A full-sized island-style backlit keyboard with numeric keypad makes working anywhere at anytime easy and comfortable, whilst the built-in fingerprint reader gives you extra security!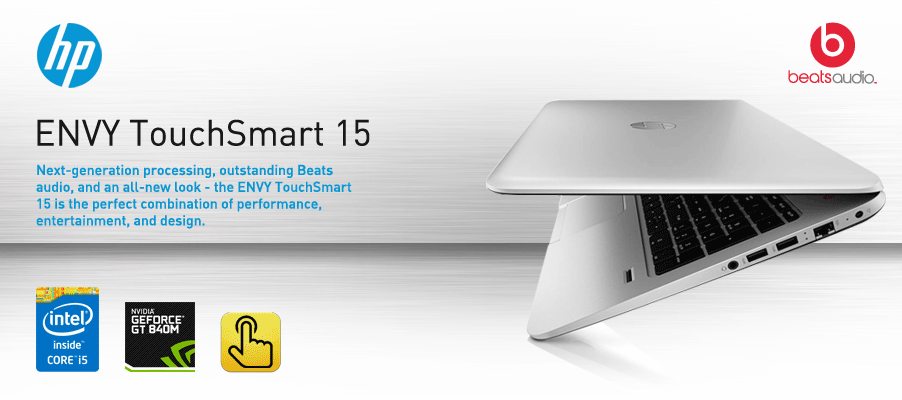 Intel Core i5-4200M CPU
1TB HDD
15.6 inch Full HD Touchscreen
NVIDIA GeForce GT 840M 2GB dedicated
Fingerprint Reader
Beats Audio
Backli Keyboard