Product Information

DVD
REWRITER
3 IN 1
CARD READER
500GB
HARD DRIVE
MOUSE &
KEYBOARD
DUAL
CORE

SMALL IN SIZE. BIG IN STATURE.
The Lenovo ThinkCentre E73 is an excellent value for money choice with some powerful components to keep you running fast with all the current applications and programmes you require.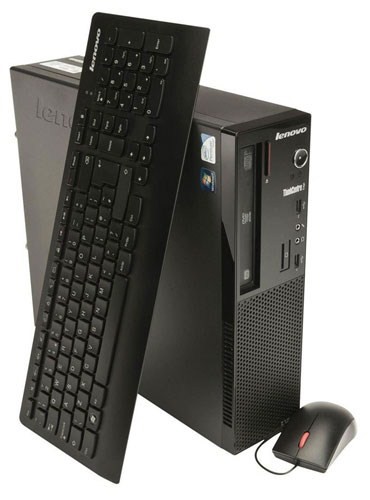 Speed
This E73 has an Intel Pentium G3240/3.1 GHz Dual-Core) processor, this means your E73 desktop can multitask beautifully. Accomplish more while still running multiple applications.
With 4GB of RAM and 3MB of cache memory to load your regularly visited sites faster, you have more than the average user requires to give you a smooth and quick user experience.
If things start to slow down and you need to boost your desktops performance speed capabilities the E73 has two DIMM memory slots which can be used to upgrade your RAM.
Feel secure
With the help of your Pentium processor and its built in security you can feel safer connecting to your network as well as being guarded against identity theft.
Lenovo services are here to help and keep your productivity up. When things go wrong bypass trouble shooting and go direct to top level technicians who are ready to help resolve issues quickly.
Experience
Running on Windows 7 Professional all your needed essentials will be at the ready, waiting to give you a helping hand. With Intel HD graphics this desktop is ideal for running required office programmes and creating vibrant charts and feature full presentations. A great choice to expand your business productivity and showcase your assets.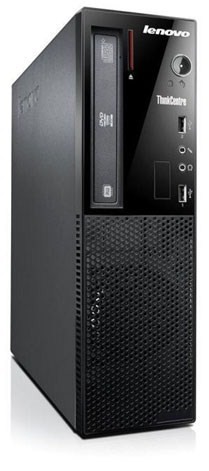 Memory
The E73 has a hard drive capacity of 500GB allowing you to save plenty of media.
If that's not enough for you this desktop has lots of options for connecting to external storage and data transfer.
There's a 3 in 1 card reader (SD, SDHC, MMC) which will come in handy for transferring media from portable devices such as your digital camera or phone. The front of the desktop also houses a DVD Rewriter, great for playing CDs and DVDs as well as burning your own.
With four 2.0 USB ports and two 3.0 USB ports which are 10x faster than your 2.0 ports you can easily transfer or back-up files quickly and effortlessly. Also giving you enough ports to connect all your accessories as well as your included mouse and keyboard.
Essentials
The E73 has a small compact design but no essentials have been missed. The desktop includes a microphone port which is perfect for the likes of video conferencing, especially if you're working from home. Hear your business calls loud and clear or play some of your favourite playlists with HD audio. Use your desktop to the fullest and take advantage of the Bluetooth and WiFi capabilities, connect to audio and video related devices to enhance your user experience.
Features:
Intel Pentium processor
Dual core
4GB RAM
3MB Cache memory
Built in security
Windows 7 professional
500GB Hard drive
3 in 1 Card reader
DVD Rewriter
4x 2.0 USB Ports
2x 3.0 USB Ports
Included mouse & Keyboard