Product Information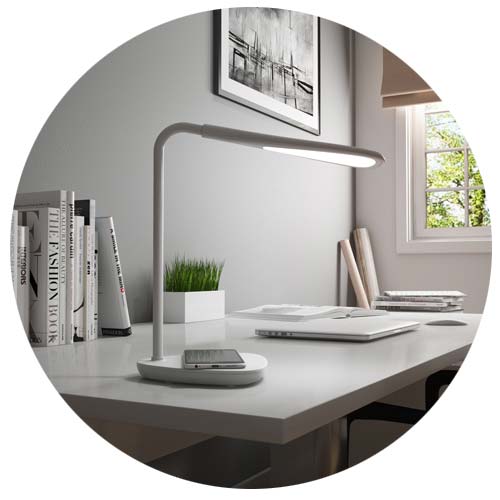 STYLISH HOME ADDITION
Designed with functionality and style in mind. Ultra-flexible the LED desk lamp with wireless mobile charging makes it easy for you to achieve perfect conditions whether you're working, reading, studying or relaxing.
USB powered the lamp is ideal for desk side. Complete with a plug there's no limits to where you can use this light weight piece of tech around the home or office. A stylish bedside essential or practical desk assistant.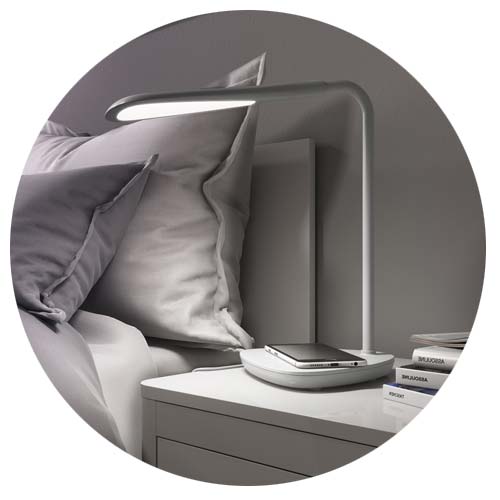 FLEXIBLE FUNCTIONALITY
With a 360° flexible head you control the light.
Move up, down, side to side, twist and turn until you perfect the position to suit your needs.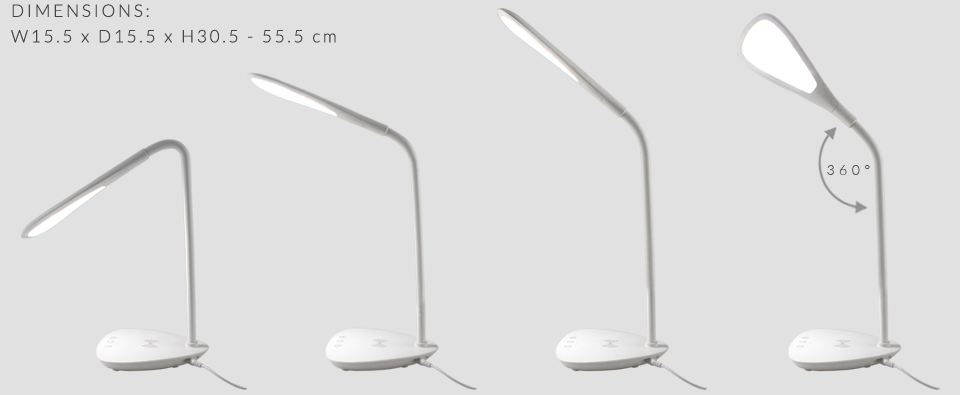 SIMPLY TOUCH
Breeze through all the settings and functions the LED desk lamp has to offer with highly responsive touch controls.

With a gentle touch effortlessly switch between the three light temperatures; white, yellow and natural.
With a simple tap light up your space.
Hold to activate the dimmer function, let go when you find the desired brightness.
When the lamp is on hold down until the lamp flashes twice, giving you automatic switch off after 40 minutes.
SET THE MOOD
Use the light temperature mode to set the mood.
Dim the light from 150 lux up to 800 lux, relaxing background light or super bright reading light.
With an LED life span of 50,000 hours the LED desk lamp with wireless mobile charging won't leave you in the dark.

Eco-friendly and energy efficient this trendy LED lighting, uses up to 75% less energy than standard incandescent bulbs, helping to save on your energy bills.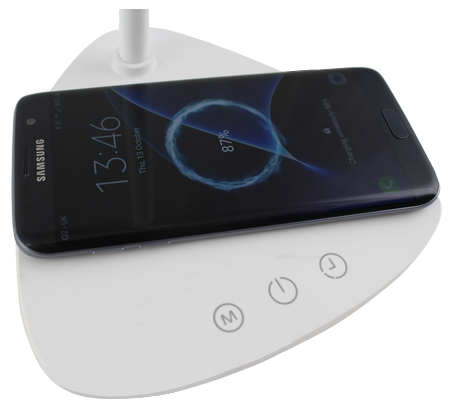 INTEGRATED CHARGING
Equipped with integrated charging, simply position your smartphone on the lamps base. As long as the lamps connected via USB or plugged in to the mains your phone will charge regardless of whether the lamps light is on or off.
Qi COMPATIBILITY
The LED desk lamp will only charge Qi compatible smartphones. This includes the majority of new smartphones. However it does not include iPhones and some older Android phones, but don't despair! Your phone can easily be made Qi compatible with a Qi receiver. The Qi receiver simply plugs into your phones charging port and can be hidden behind your phone case.

There's no need to worry if your phone is not Qi compatible. Once you have added the LED lamp to your basket you will be given a choice at the basket stage which type of Qi receiver you would like included with your LED lamp. Choose between an Android smartphone receiver or an Apple iPhone receiver.
Features:
Easy wireless charging
USB powered – ideal for workstations
360° Flexible lamp head – find the perfect position
Working, studying or relaxing – achieve perfect lighting
Quick, responsive touch controls
3 Light temperatures – White, yellow & natural
Adjustable brightness levels
40 Minute timer mode
Contemporary white design
QI compatible wireless charging
Eco-friendly and energy efficient – uses 75% less energy than standard bulbs