Product Information
GRADE A1 - As new but box opened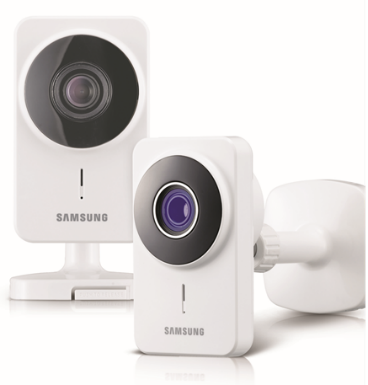 Secure your home with the Samsung IP camera!
You can't be at home all the time, so ensure the safety of your home with the Samsung Wi-Fi IP camera. Easy to set up and no monthly fees dragging you down, you can watch over the places and people that mean the most to you.
Watch where you want, how you want
With Samsung's free web portal, you can view live video from anywhere with your PC, Mac, Tablet or smartphone.
Recorded Events
Whether its a special moment of a family member or if you have evidence of an intruder caught on camera, you can rest assured knowing that every 30 seconds the camera automatically uploads 30 second video clips to your private YouTube account so you have clips there for when you need them.
True Day/Night
This smart Samsung camera comes with a filter than provides true colour reproduction for a higher image quality
Night Vision
Even when the sun goes down you can still get excellent video with the Night Vision. Working with built-in infra-red LEDs you can keep an eye on your home no matter the time of day.

Real Time Alarm
It can detect movements and sounds and sends you real time notifications on your smart phone and PC viewer.
Two-Way Talk
Stay involved with the two-way talk feature. Whether it's to call out a fridge-raider or to stop your cat from getting in the fish bowl, speak into your smartphone and you can connect to events at home.
What makes Samsung's streaming faster?
Normally your video has to go through a remote video server. As more devices are sold and connect to this server, there will be a noticeable increase in video stream delays as well as growing costs for taking care of the server.
What makes Samsung's streaming secure?
Samsung's Peer to Peer technology only asks you verify your account once so that the video streams when an event has occurred and when you connect to the camera. With a secured network, only you will receive your videos.
Contents:
Samsung WiFi Security Camera
Power Adapter
Network Cable
Double sided tape
Screws & wall anchors
Quick guide & warranty card
Click Here to download PDF data-sheet.
Click Here to download PDF quick start guide.
Click Here to download PDF manual for Android devices.
Click Here to download PDF manual for Apple devices.