Product Information
A1 Refurbished
A1 are open boxed units which have been returned usually due to being unwanted. The units may have at very worst case have very faint minor /non-permanent blemishes. All units then undergo a full 25-point inspection by our experienced tech team ensuring they are in full working order. Once all relevant checks have been complete the units are then securely repacked ready to be resold. Please note although we can't guarantee that these units are still in their original boxes with all their original accessories we can confirm that on average 85% of our stock is still in its original packaging.
This is a graded product. A1 products have no obvious scratches, marks or dents. It will be fully bubble-wrapped for transportation and comes with the full manufacturer's warranty.
GRADE A1 - As new but box opened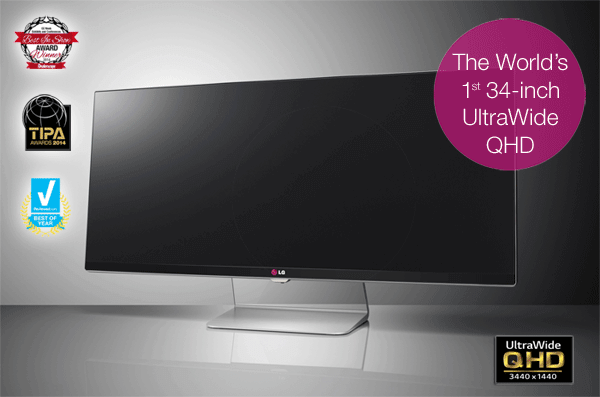 The UltraWide 21:9 aspect ratio makes movies and games more immersive than ever. Need to get some work done, too? All of that UltraWide real estate makes it easy to view multiple documents at the same time, so you don't need to flip back and forth between them.
The 3440 x 1440 UltraWide QHD display offers amazingly sharp picture quality. Its pixel area is about 1.8 times larger than an UltraWide Full HD 21:9 monitor, and about 2.4 times larger than a Full HD 16:9 monitor. It provides an efficient environment in using Microsoft Office programs showing 47 columns and 63 rows in excel.
LG's LED backlighting delivers exceptional brightness and amazing image clarity. You'll see richer colors and deeper blacks too, and LEDs offer greater energy efficiency compared to conventional LCD monitors.
IPS (In-Plane Switching) technology enhances the performance of liquid crystal displays. Response times are shortened, color reproduction is improved, and users can now view the screen at virtually any angle.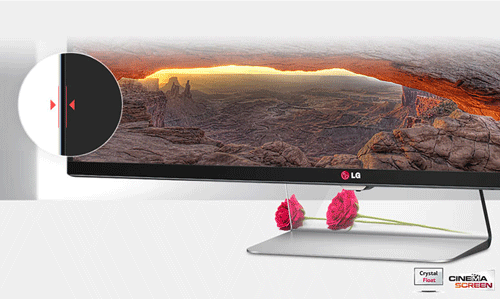 A dynamic contrast ratio of 5,000,000:1 is your assurance of strong video performance, with deep blacks, bright whites and pleasing colors.
This monitor's Thunderbolt input/output port allows you to connect up to six compatible devices, moving data between them with incredible speed. The two channels of 10-gigabits-per-second throughput in both directions are up to 20X faster than USB 2.0. Thunderbolt is an exciting innovation for both expansion and premium video display.
Graphic designers will surely appreciate the many features of LG's Mac-compatible UltraWide monitor. The 21:9 widescreen and 4-Screen Split will simplify working with multiple graphics windows.
The Dual Linkup feature allows two compatible portable devices--such as a computer, camera, phone, or Blu-ray player--to be connected to the monitor, and both can be viewed on the same screen simultaneously.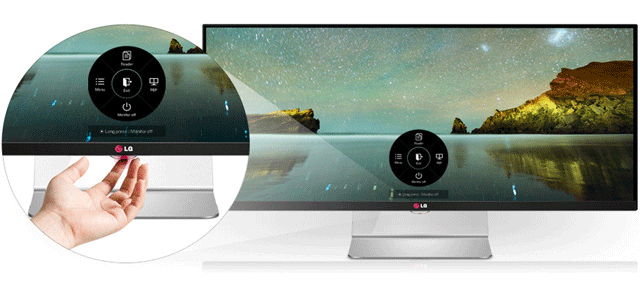 Multitasking doesn't have to mean shuffling back and forth between windows. With a single click, the 4-Screen Split feature divides the screen into as many as four customizable segments, two-by-two. Now you can see four different windows at the same time.
sRGB is the standard color space of ideal color reproduction. So, with over 99% coverage of the sRGB spectrum, this LG monitor is a great solution for professional photographers, graphic designers or anyone looking for highly accurate color.