Product Information
A1 Refurbished
A1 are open boxed units which have been returned usually due to being unwanted. The units may have at very worst case have very faint minor /non-permanent blemishes. All units then undergo a full 25-point inspection by our experienced tech team ensuring they are in full working order. Once all relevant checks have been complete the units are then securely repacked ready to be resold. Please note although we can't guarantee that these units are still in their original boxes with all their original accessories we can confirm that on average 85% of our stock is still in its original packaging.
Refurbished Laptop
GRADE A1 - As new but box opened
A device ideal for both private and business users. A great all-rounder laptop packed full of essentials, perfect for every day computing.
Dimensions: H2.7 x W37.7 x D23.5 cm
Weight: 2.3kg
Design
The ThinkPad Edge E555 has a quality design with great durability, finished in matt black it has a smart, stylish appearance. Featuring a 15.6 inch display which has great stability thanks to the sturdy hinges. Weighing only 2.3 kg the ThinkPad Edge E555 is great to take on the go.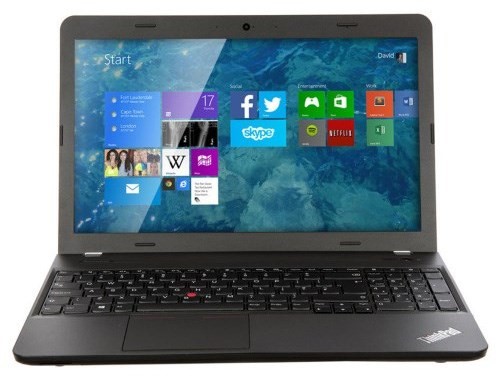 Performance
Equipped with a quad core processor and 4GB of RAM the ThinkPad Edge E555 streams through daily tasks such as web browsing and admin work. It also has the power to be used as a media hub, storing all your photos, music and files on its 500GB hard drive. The hard drive also has an SSD cache (8GB) enabling frequently used applications to launch very quickly.
Connectivity
The ThinkPad Edge E555 has plenty of ports and connections on offer for you to get the most out of your laptop. There is one 2.0 USB port and two 3.0 USB ports that offer ten times faster data transfer. There's a HDMI port which is perfect for connecting your laptop to a larger screen or TV and sharing a movie or two with friends and family. The front of the laptop also features an integrated card reader, allowing you to easily transfer files from other portable devices such as your phone or camera.

Features
The AccuType keyboard has well defined pressure points and resistance making typing very easy, an excellently designed keyboard for frequent writers. The touchpad is smooth, measuring 10x7.5cm and demonstrates good gliding capabilities. The ThinkPad Edge E555 also includes a track point, giving precise control of the cursor.
With Dolby speakers which have advanced audio the ThinkPad Edge E555 produces quality audio, immersive surround sound and crystal clear vocals. Complete with enhanced VOIP features and an improved microphone you can contact colleagues and loved ones no matter how many miles apart you are.
Key Features:
15.6 Inch screen
AMD A8 7100 – 1.8 GHz processor
4GB RAM
500GB Hard drive
Windows 7 Pro
DVD Super Multi optical drive
AMD Graphics
Webcam & Mic
Integrated card reader
HDMI port