Product Information
A2 Refurbished
A2 units may have some cosmetic markings that can still be seen when holding the unit at arm's length, please be assured this will in no way effect the unit's performance. All A2 units have undergone a full 25-point inspection by our experienced tech team, before been securely repacked to ensure you get the best experience upon using your unit. Please note this unit may not come in its original packaging or complete with accessories but we will always ensure the units have their required power supply to allow you to charge this unit. All of the above is reflected in the units sell price.
GRADE A1 - As new but box opened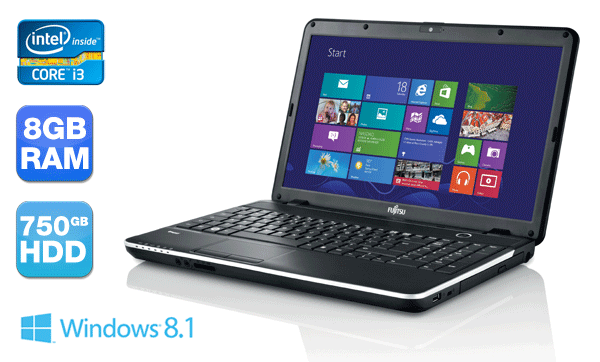 When it comes to affordable, reliable, everyday computing, you can't go far wrong with the Fujitsu LIFEBOOK A512. The A512 offers an all round solid experience with a sturdy chassis & firm hinges. Finished off with a combination of smooth and matte black materials, this laptop is ideal for business as well as the home.
Featuring a powerful Intel Core i3 processor that pumps out a whopping 2.4 GHz dual clock speed and a vast amount of RAM at 8GB, you have the power to multi-task and the speed to get things done - fast. The huge 750GB hard drive has ample room for all your files & media whilst Windows 8.1 makes computing more intuitive & interactive.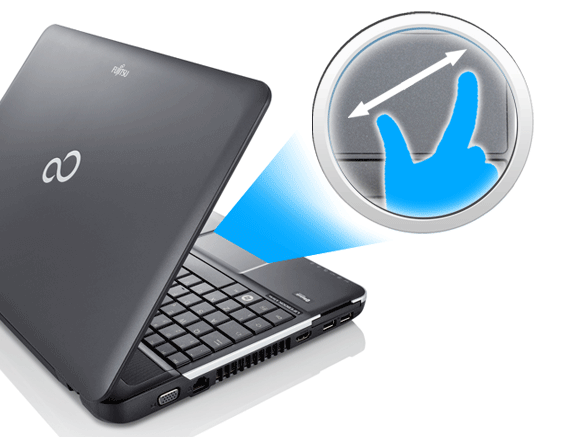 Impressive Functionality
The LIFEBOOK A512 laptop has an array of features designed to make computing easier including 3 x USB ports, integrated HDMI port for all your HD movies and videos and Express Card Slot.
It features a solid keyboard with numerical keypad; while the latest technology places heat-generating components away from the palm rest, ensuring a comfortable typing experience, even after prolonged periods of use. It is accompanied by a large multi-touch pad for smooth, intuitive fingertip control - the smooth surface also allows easy finger gliding and multi-touch gestures such as two-finger zooming.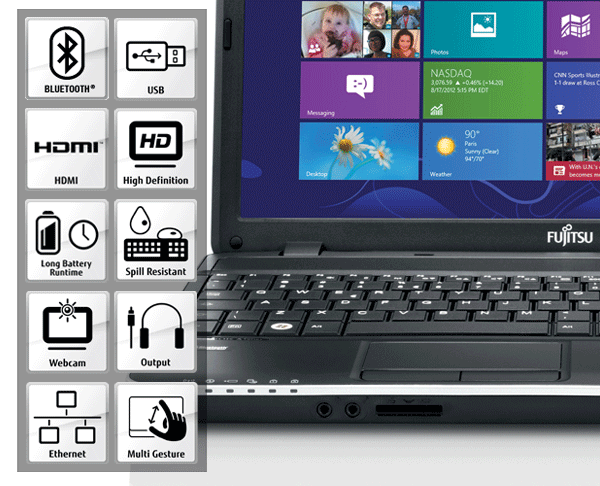 Features
The battery on the A512 can reach up to 6 hours (depending on usage) allowing you to work while you travel, a milestone longer then most laptops of this calibre.
The stereo speakers on the LIFEBOOK A512 are situated above the keyboard, close to the screen and beneath a mesh cover, this ensures that your audio is close to the action and protected from dirt and dust.
Fully optimised in design and technology as well as its solid design, the A512 laptop boasts an impressive array of innovative mobile technology, so it can deliver high performance, hassle-free computing wherever and whenever you need it. With the Fujitsu LIFEBOOK A512, you can be sure that you're getting a great combination of performance, features, reliability and value.